Itinerary Highlights
Desert, city and mountains - Namibia has it all
Tick a heap of big game off your bucket list with rhino, lions, giraffe, leopards and elephants.
Look up on star-studded African skies as far as the eye can see
Contact one of our Namibia specialists + 44 (0) 20 3958 6120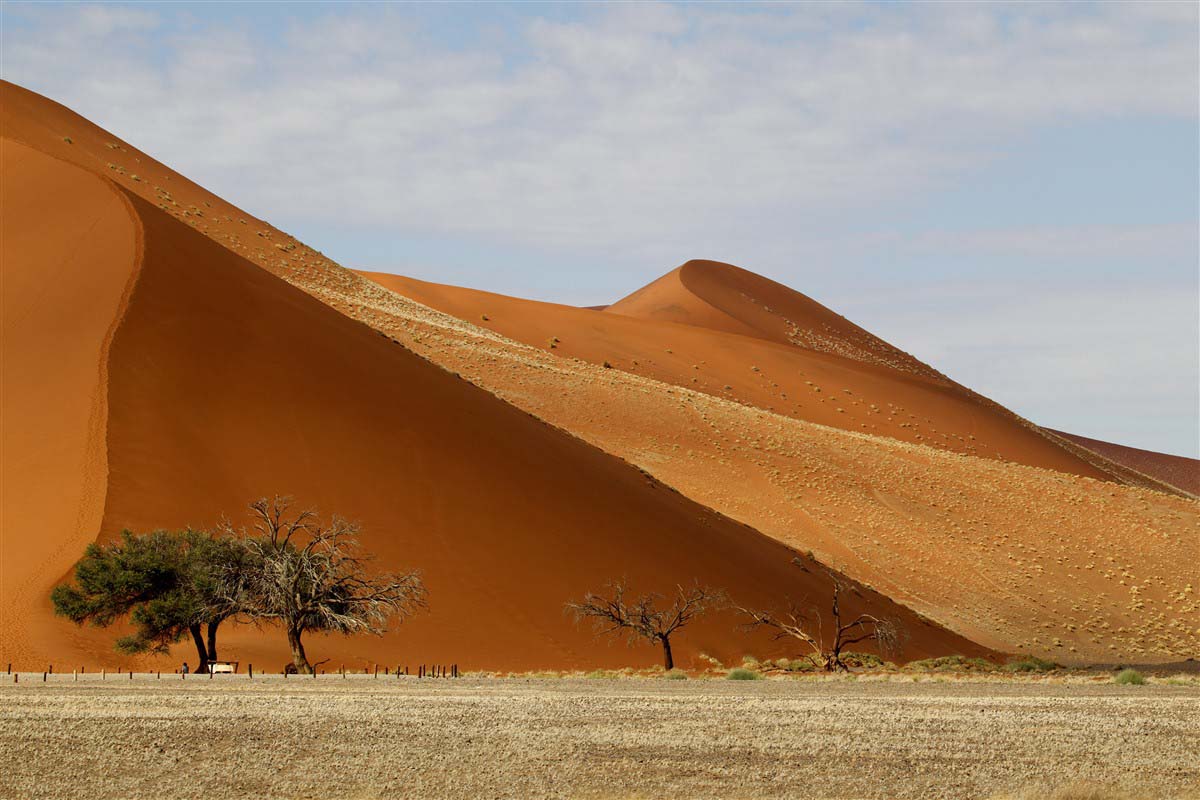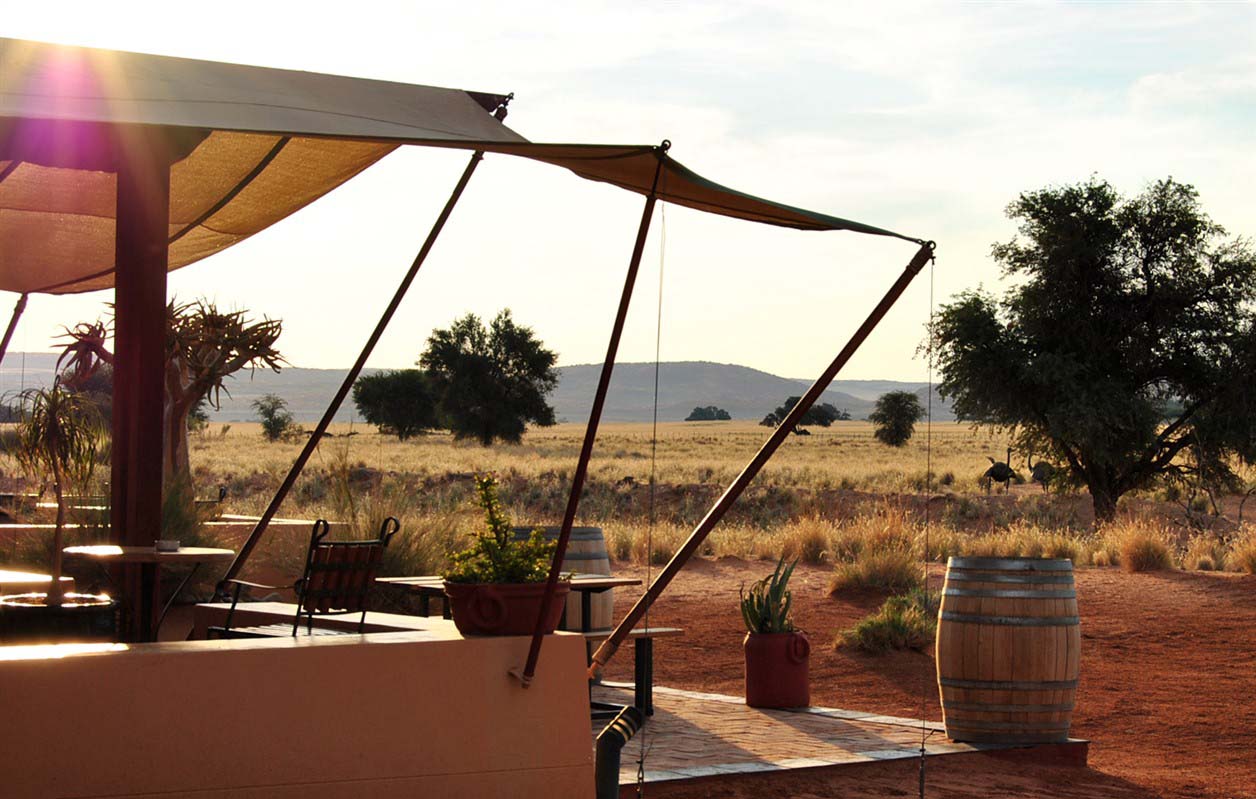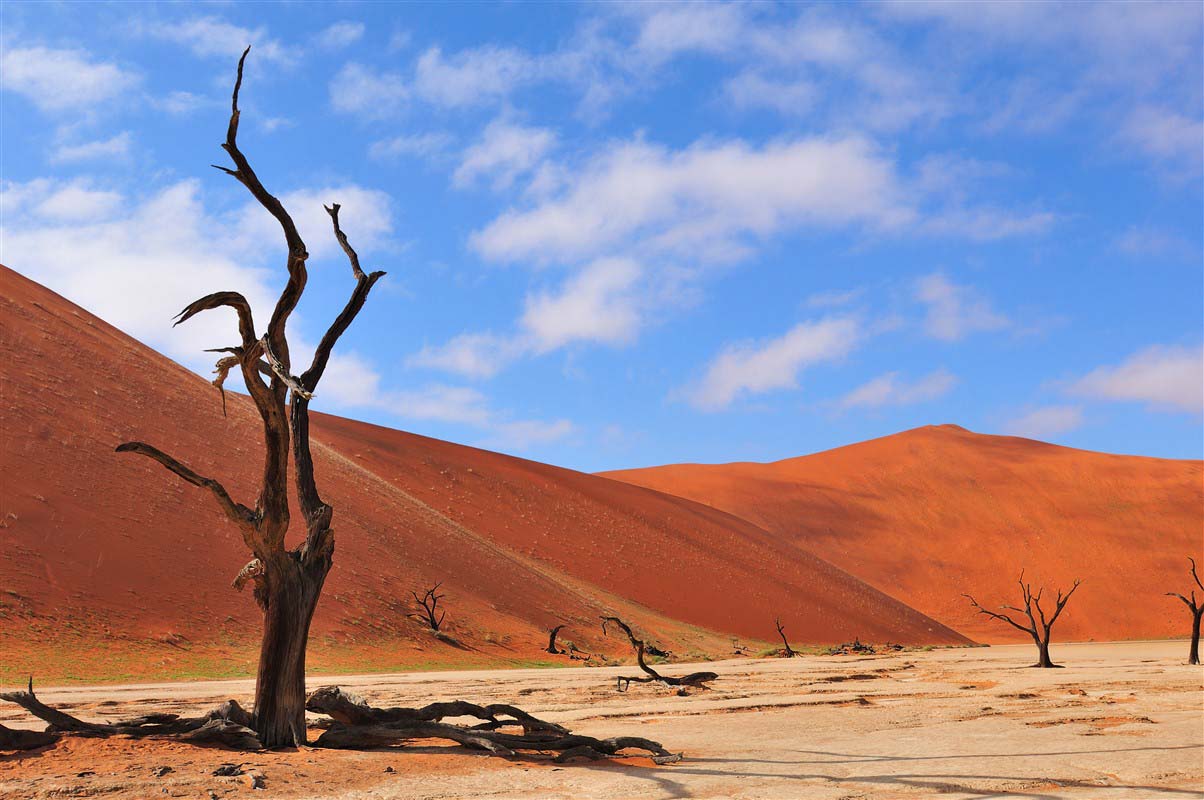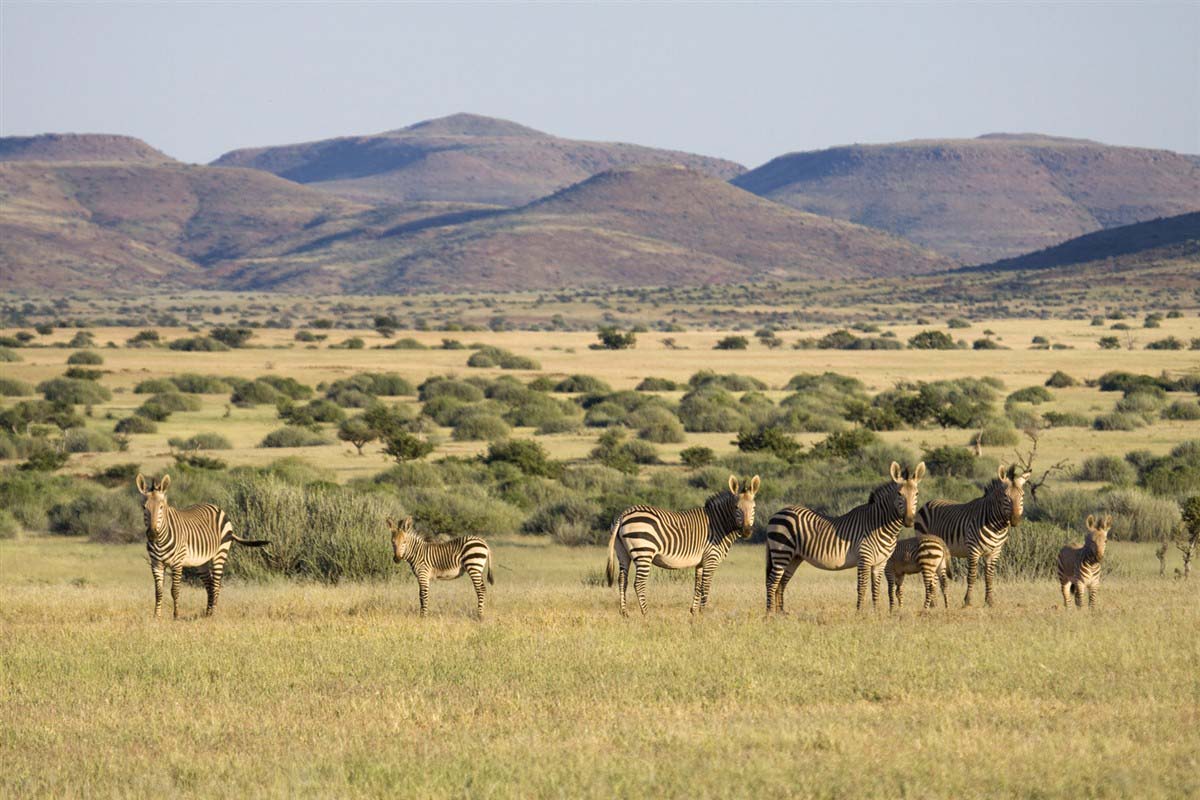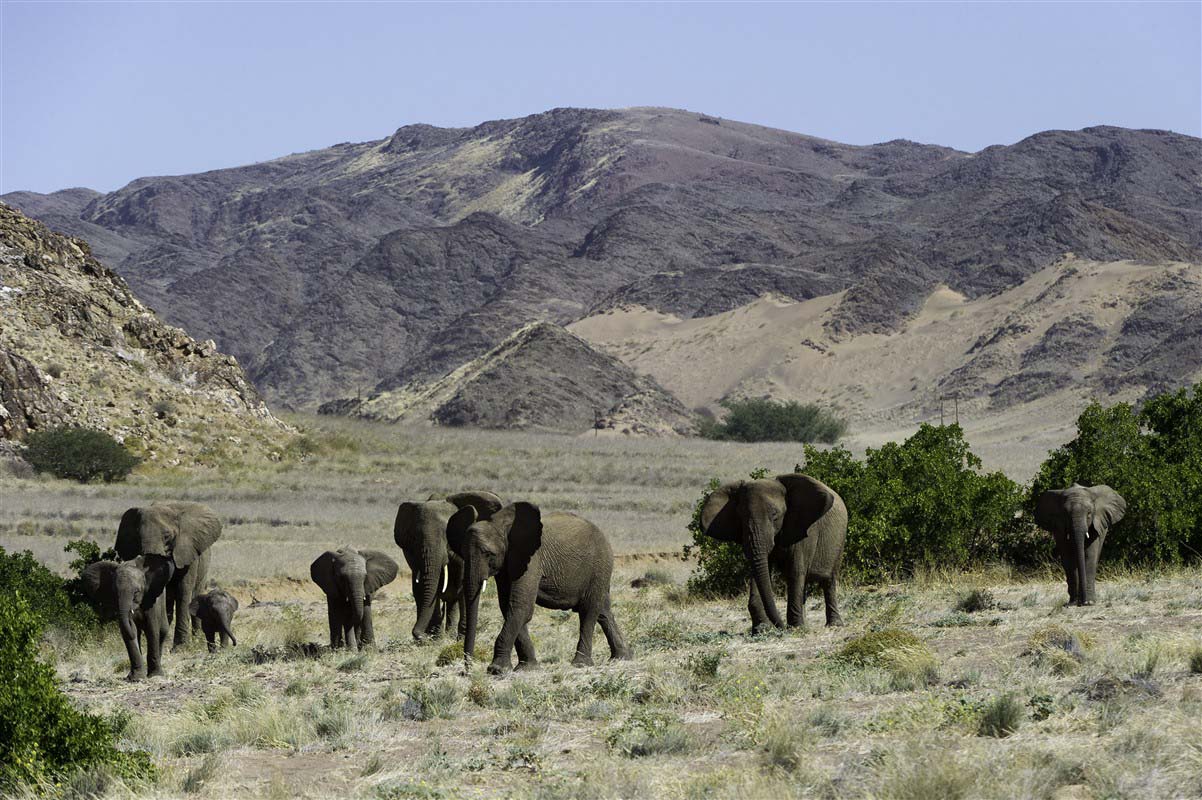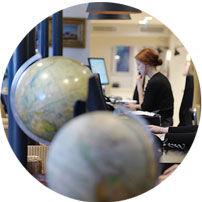 Whilst it may not be the first place that springs to mind, for the ultimate unique road trip look no further than Namibia. With so many places to explore, each one offering a completely different experience - this is something you don't want to miss. Think bright colours to please your eyes, tranquil sounds to soothe your mind, and luxurious camps to rejuvenate your body.
Route
Everything is 100% tailored to you
DAY 1
International Flight
Depart the UK on an overnight flight to Namibia, connecting through Johannesburg in South Africa.
This morning you will be met on arrival and privately transferred to your charming hotel in the city. You will then have the rest of today to relax in your modern, comfortable room and maybe stretch your legs with a wander around Windhoek. After a delicious dinner, be sure to get an early night - the adventure begins tomorrow and it will be an early start!
This morning you will be met by one of our local partners who will sit down and run through your trip in detail, with a map and full, detailed driving instructions. You will be given a local phone and sim card, loaded with all the contact details you could need, and our guide will run through any questions you may have about the trip. Our partner will stay with you while your car hire is dropped off at the hotel and make sure you are happy with everything before you set off on the first stage of your road trip. You begin with a five hour drive to Sossusvlei - in the heart of the Namibian desert. Passing quirky towns, farmsteads, hillsides and desert, you will finally arrive at Kulala Desert Lodge by late afternoon. After your long drive here, freshen up and relax in your tent as the sun sets behind the dusty orange dunes around you. Alternatively, if you arrive into camp early enough, you may have time for an afternoon activity - what better way to introduce yourself to the desert than by hopping onto a quadbike and discovering your surroundings with speed! You will head back to camp in time for dinner in the restaurant, and once you have eaten as much as you can, make your way to the bar and enjoy a refreshing beverage as you watch the African night sky.
DAY 4
Exploring Sossusvlei
Early this morning you will depart just before sunrise to visit the iconic dunes of Sossusvlei and the pans of Dead Vlei. To give you some idea what to expect, think rusty orange dunes set against a luminous white floor, with dead black trees, and all below a deep blue sky - this is Namibia in a nutshell. To get there you will have to leave your car around half a mile away and walk to the dunes, so be sure to pack comfy walking shoes. Returning to the lodge you will have lunch, and perhaps a siesta, before setting out on an afternoon game drive. Exploring the 37,000-hectare private Kulala Nature Reserve, search for hyena, ostrich, springbok and gemsbok, which are all adapted in order to survive in the desert. Be sure to keep your eyes close to the ground too, as it's easy to miss the elusive beetles, spiders, reptiles and geckos which all dig beneath the sand. Plus, as well as spotting wildlife on the drive, our guide will also teach you about the flora which can be found here, and how they too are able to survive the hot and dry days that Namibia experiences. If you prefer, you can of course simply relax at the lodge, take a refreshing dip in the pool, lounge on your private balcony, read your favourite book in the library, or book a massage - what better way to make the most of the serenity the desert brings?! Alternatively, we can arrange bird watching or riding. Tonight, once you have had dinner, take advantage of the African night sky and sleep on the private rooftop skybed. This is an amazing, once in a lifetime experience and gazing up at the stars with your other half is oh so romantic.
DAY 5
On your way to Swakopmund
This morning, after breakfast, you will jump back into your hire car and make your way to Swakopmund, which is another five hour drive through the desert, ending up on the coast. On your arrival into Swakopmund, you will make your way to your hotel, where you will have the rest of the day to relax after your long drive. We suggest heading out into Swakopmund as dusk falls, for a nice opportunity to stretch your legs after a long drive and the chance to pick which of the local restaurant to have dinner in - seafood is a speciality here.
DAY 6
Discovering Swakopmund
Today you have the day at your leisure to explore Swakopmund. Take a stroll through this charming city and visit the museum which will teach you all about Namibia's history. This is also the adrenaline capital of Namibia and you are spoilt for choice with adventure activities - from scenic flights over the Skeleton Coast to sunset cruises, kayaking with seals, quad biking in the dunes, sand boarding, and much more. One of our personal favourites is the scenic flight, as the dramatic landscapes and shipwrecks found in this part of the world look even more impressive from the sky.
DAY 7
Heading to Damaraland
Today you leave Swakopmund and make your way about five hours north east to Damaraland; first driving up along the coast (keep your eyes peeled for the shipwrecks!) before turning inland to Damaraland itself. You will notice how different the scenery is here from Sossusvlei, with much more yellow hues and even some green creeping in here and there. Upon arrival into the area you will be met at Palmweg by your guide, and leave your car to be transferred by jeep. You will be staying at Desert Rhino Camp in Damaraland, which sits amongst an outcrop of rocky hills. The lodge's name stems from the black rhino population found in this area, which is the largest group of free-roaming rhinos in Africa. Having settled into the camp, and discussed your personal interests and all the activities on offer with your guide, you will have dinner and return to your tent for an early night.
DAYS 8 & 9
Game in Damaraland
Your next two days will begin with an early morning wake-up call, followed by a hearty breakfast before you set out in a game drive vehicle with the Save the Rhino trackers - who keep records on the rhinos' movements. You may be driving for long distances to find the rhinos, but trust us, it will be worth it! Once you have located the rhinos, you will continue tracking them on foot - depending on their location of course. After your morning of tracking, you will head back to the lodge where you can relax by the pool or on your veranda and while away an hour or two. This is the perfect time to appreciate the tranquillity the African wilderness brings, look out for myriad bird species, or get stuck into your book. Later this afternoon you will head back out into the wilderness on a game drive in search of the giraffes, elephants, lions and gemsbok in the area. You can get the true African safari experience here and feel a rush of adrenaline when you see these animals sauntering so close to your vehicle. Before you head back to camp your guide will find a place to stop for a sundowner, a true safari must-have. Sip on a cold G&T as you look over the reserve and marvel at the days adventures. After your sundowner you will go back to camp where you will freshen up for dinner under the stars. Afterwards, take your drink to the boma and relive the day by the fire, swapping stories with other guests and hearing some no doubt fascinating ones from your guide.
DAY 10
Departing Damaraland
This morning will begin with another early morning start as you make your way to Etosha, the home of big game in Namibia. You will be staying at Ongava, which is one of the largest private game reserves in Namibia - 125 square miles to be exact! There is an abundance of wildlife which you will search for here, and a choice of four lodges to stay in, each one unique and luxurious - well you need to be well rested for all the game viewing you'll be doing! After arriving, spend the rest of the day relaxing in the lodge; taking in the panoramic views from the lounge or going for a dip in the pool - where you can simply relax and let the game come to you! You will have plenty of time to freshen up before dinner and a good night's sleep.
DAYS 11 & 12
Nothing but game in Ongava
For the next couple of days, your days will begin very early - with a hearty breakfast to help wake you up before you head out in search of game. In Etosha National Park you can expect to see lions, black and white rhinos (yes both!!), elephants, giraffe, birdlife galore and many species of antelope, including the rare black-faced impala. Your guide will impart their wisdom about the area as you drive around in search of these beautiful animals. Mid-morning you will stop for a hot or cold drink as you watch over the reserve and appreciate the beauty of the wilderness. Shortly after, you will head back to camp where you will have a few hours to lounge by the pool or on the private deck at your tent (it will be hard to tear yourself away from it!) before you head back out later in the afternoon, once it's a little cooler. In the afternoons, why not stretch your legs and take a break from the 4x4 with a series of guided walks around the reserve. Aside from getting to experience the wilderness on a more personal level, it's also a sure way to get your adrenaline pumping.
DAY 13
Onwards to Okonjima
This morning you will say goodbye to Etosha as you head an hour and a half south to Okonjima, a nature reserve which sits among the Omboroko Mountains. This is also the home of the AfriCat Foundation. When you arrive, enjoy a refreshing drink as you look out over Okomjima - your adventure playground for the next 24 hours. After lunch you'll head out into Okonjima with the AfriCat Foundation. You'll be in search of leopards, cheetahs and carnivores, which are being rehabilitated into the wild. Helping the rangers spot these big cats and seeing them up close is a true eye-opening and once in a lifetime experience, one we're sure that you will be talking about for years to come.
This morning, wake-up early in time for one last morning game drive before you set off on your three hour drive back to Windhoek, in time for your flight home. Make sure you take some time to soak up the beauty of Namibia as you say your goodbyes. Your first flight will be to Johannesburg or the Middle East, where you will then connect onto your overnight flight to the UK.
A Rough Idea of Price
Dependent on season, accommodation and activities
The estimated cost for this trip is £4,285 to £6,050 per person. The final cost of the trip depends on the way we tailor it especially for you. The final cost varies according to several factors, which include the level of service, length of trip and advance booking time. The exact price will be provided on your personalised quote. The average price for this trip is £5,040 per person.
A few of the benefits of travelling with us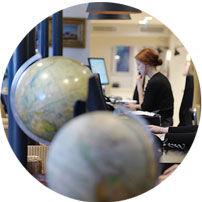 Get in touch
Our experts have the inside track on the destinations they sell and will tailor-make a holiday to your unique requirements.
Contact one of our Namibia specialists