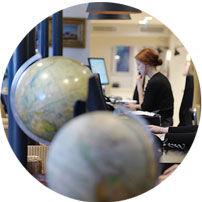 The Skeleton Coast is home to some of the most remote wilderness areas of Namibia, and this remains one of Original Travel's favourite African experiences. So named after the shipwrecks that litter the shore, the Skeleton Coast includes the whole Namibian coastline and continues across the border some 130 miles into Angola. A major feature of flying safari Skeleton Coast holidays is the use of light aircraft. Flights at 'sea' level provide outstanding bird's-eye views of seal colonies, diverse geological formations and - if you're lucky - the endangered black rhino, and sometimes the planes come in to land on the beach.
Once on the ground, Land Rovers are used to explore the environment close up and discover interesting flora and fauna, such as desert-adapted elephants or the strange 'living fossil' Welwitschia plant. These safaris are not just about the game but more to experience the freedom, beauty and strange solitude of the area. Itineraries include 4x4 driving on enormous dunes, visits to ancient Bushman rock art and to a settlement of the nomadic Himba people. Further north, the Kunene River forms the border with Angola and is the only permanent source of water in the whole region, creating a lush oasis along its banks surrounded by rugged mountains and sand dunes. We can arrange boating trips on the river where you can spot crocodiles sunning themselves on the banks.
Skeleton Coast and the Kunene River Holiday Ideas
A few suggestions to get the holiday planning process started
Namibia Regions
Discover more 100% tailor-made holiday ideas
A few of the benefits of travelling with us
What our clients say about us
Namibia customer reviews (2 reviews)
4.5/5
Had an amazing time, loved the country and the people, really different, really well organised and quite flawless. Best part about the trip was that we were in Swakop for the England match on the Saturday vs. Sweden so we watched it in a local bar.
Namibia Guide
Practical advice, client testimonials and inspiration to help you prepare for your holiday
Contact one of our Namibia specialists