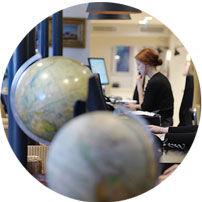 Wedged between Angola, South Africa and Botswana, Namibia is a small country - barely larger than France - but it packs a real scenic punch. Namibia road trips allow you to plunge into otherworldly landscapes, from the red and arid planes of the Kalahari and Namib deserts, to the sensational shores of the Skeleton Coast. Enjoy a brief respite from the wilderness on a trip to the modern mecca of Windhoek - a real oasis in the desert - and admire the surprising skyline of the Neo Baroque cathedral spires and German castles. Dive back into the wild on visits to the exceptional Etosha National Park
in the north and the awe-inspiring Fish River Canyon in the south - leave Namibia with a car covered in dust and a camera stuffed full of memories.
Namibia Iconic Road Trips Ideas
A few suggestions to get the holiday planning process started
Other Namibia collections
A few of the benefits of travelling with us
What our clients say about us
Namibia customer reviews (2 reviews)
4.5/5
Had an amazing time, loved the country and the people, really different, really well organised and quite flawless. Best part about the trip was that we were in Swakop for the England match on the Saturday vs. Sweden so we watched it in a local bar.
Namibia Guide
Practical advice, client testimonials and inspiration to help you prepare for your holiday
Contact one of our Namibia specialists