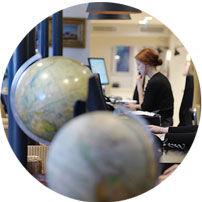 For a honeymoon destination that you'll be bragging about for years to come, Namibia is a strong contender. The country's raw natural beauty, prolific wildlife and ancient history guarantee that your Namibia honeymoons will be just as memorable as your big day. Discover all the deserts of this remarkable country in their infinite variety. Visit Kalahari, with its rusty-red sand; the colossal cliffs and canyons of the Fish River, the blazing orange Sperrgebiet National Park and the famously sky-high dunes of the Namib Desert. Experience a remarkable range of wildlife in the country's national parks:
see lions, elephants, springboks and gemsboks in Etosha National Park and Damaraland, marvel at desert-adapted elephants and lions, as well as one of Africa's largest populations of free-ranging rhinos. Stay in rustically romantic safari camps, take plenty of envy-worthy couples photos against the country's cinematic backdrops and savour the chance to well and truly walk on the wild side.
Other Namibia collections
A few of the benefits of travelling with us
What our clients say about us
Namibia customer reviews (2 reviews)
4.5/5
Had an amazing time, loved the country and the people, really different, really well organised and quite flawless. Best part about the trip was that we were in Swakop for the England match on the Saturday vs. Sweden so we watched it in a local bar.
Namibia Guide
Practical advice, client testimonials and inspiration to help you prepare for your holiday
Contact one of our Namibia specialists