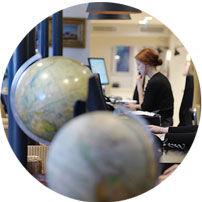 This region - the gastronomic heartland of France - is synonymous with good living and boasts beautiful rolling countryside and the much underrated city of Lyon. France's second city has France's first food, with fantastic markets and restaurants ranging from Michelin-starred establishments to cosy 'bouchons' (Lyonnais bistros). Outside the city, cycle through the vineyards of Beaujolais and discover for yourself that while these wines are dismissed by many, the ten Beaujolais Cru Domaines are a serious step up from the Beaujolais of your imagination. North of Beaujolais you'll find the region of Burgundy,
home to some of the finest wines in the world, and top-quality cuisine to match. This is another place to indulge in culinary delights; take your seat at the table of La Cote Saint-Jacques in Joingny, or at William Frachot's restaurant in Dijon, for an unforgettable dining experience. If you get tired of eating (highly unlikely), use the extra fuel to climb the natural prehistoric Rock of Solutre, and stroll along the peaceful meanders of the Saone, the key tributary to the Rhone. Lyon and Burgundy holidays aren't short of manmade marvels either, with ancient monuments like the Hospices de Beaune, Cluny Abbey, and the Abbey of Fontenay to discover, along with modern-day events like the Charolais Festival in Saulieu (dedicated to the Charolais cow), and the bustling Louhans Poultry Market. End each day in your own little haven – with old stone walls, a large crackling fireplace, and a mountain of warm, cosy blankets.
Burgundy Holiday Ideas
A few suggestions to get the holiday planning process started
France Regions
Discover more 100% tailor-made holiday ideas
A few of the benefits of travelling with us
What our clients say about us
France customer reviews (3 reviews)
4.3/5
The skiing was great – so much snow (almost too much) and the place we stayed in Tignes was great. Paris was great – The Keppler was perfect. It was very friendly, comfortable, efficient and well located. A great weekend, thanks for arranging it. Great recommendations!
France Guide
Practical advice, client testimonials and inspiration to help you prepare for your holiday
Contact one of our France specialists