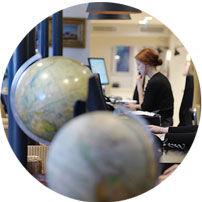 Deep in the heart of France, the Loire Valley is the epicentre of picturesque feudal palaces. Thanks to the river's crucial role in transportation before the French Revolution, nobles, royals and aristocrats constructed their extravagant homes along its banks – and luckily for us, many are still there today. Discover the castles: Chambourd, grandiose and elegant, and the largest of them all, boasting 440 rooms and 282 fireplaces; Chenonceaux, with its intricate arches overlooking the Cher tributary; or Azay-le-Rideau, a jewel standing tall on an island in the Indre River. Gaze at the wild lands
of Sologne and the greenery of Brenne Regional Natural Park, where you can spot freshwater turtles, purple herons, and black-necked grebes. To cool off on your Central France & Loire Valley holidays, swap the swimming pool for the natural waters of La Roche-Posay. Stroll through the medieval streets of Chinon or Blois, and explore Bourges Cathedral, a UNESCO World Heritage Site. Experience central France through your taste buds, savouring the green lentils of Berry, the crottin (goat cheese) in Chavignol, and the sweet tarte Tatin in Lamotte-Beuvron. Choose a charming château hotel on the river's edge, and at the end of the day, you can sleep like a king yourself.
Central France & Loire Valley Holiday Ideas
A few suggestions to get the holiday planning process started
France Regions
Discover more 100% tailor-made holiday ideas
A few of the benefits of travelling with us
What our clients say about us
France customer reviews (3 reviews)
4.3/5
The skiing was great – so much snow (almost too much) and the place we stayed in Tignes was great. Paris was great – The Keppler was perfect. It was very friendly, comfortable, efficient and well located. A great weekend, thanks for arranging it. Great recommendations!
France Guide
Practical advice, client testimonials and inspiration to help you prepare for your holiday
Contact one of our France specialists