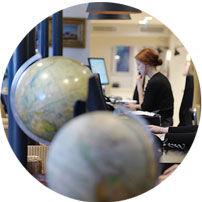 Whitewashed clifftop villages, sparkling turquoise sea, secluded white-sand coves, ultra-fresh Mediterranean cuisine and guaranteed sun: this is, of course, the dazzling nation of Greece. Featuring no less than 2,000 heavenly islands, this paradisical country is the perfect place to embark on a romantic island-hopping adventure. You can explore ancient ruins in the virtually uninhabited island of Delos, paddle your way around the iconic island of Mykonos, and enjoy a day of wine tasting on a visit to one of Santorini's whimsical vineyards. Yet, while island hopping may be the first thing that comes
to mind when we think of a Greece escape to the sun holiday, there are countless other ways to soak in the diverse offerings of this nation. Hiking enthusiasts will doubtless find themselves enamoured with the sweeping landscapes of the Peloponnese Peninsula, die-hard foodies can tuck into the delicious local specialities of Naxos, and culture buffs can delve into the fascinating history of some lesser-known towns, such as Meteora, Rethymno, or Chania. The take home message? Greece truly has something in store for every kind of globe-trotter, making this one delightful destination you won't want to miss.
Greece Escape to the Sun Ideas
A few suggestions to get the holiday planning process started
Escape to the Sun by country
A few of the benefits of travelling with us
What our clients say about us
Greece customer reviews (3 reviews)
4.7/5
We had a great time. We loved both hotels you suggested in Greece. Your team were fantastic and I would definitely use your services again – it was really well organised and made it much easier and less stressful.
Greece Guide
Practical advice, client testimonials and inspiration to help you prepare for your holiday
Contact one of our Greece specialists