Silence the arguments over whether it's the Argentinian or the Brazilian side of the falls that affords the best view, and see the whole lot from the air in a thrilling helicopter ride.
Original Travel can arrange an hour's private journey from either the Brazilian or the Argentinian side of the Falls for the ultimate in photo opportunities and awe-inspiring experiences.
Why We Love It

Iguacu is so wide that it's really only when hovering above its 275 separate falls that you can take its enormity in.
Ollie, Original Traveller
Itinerary Ideas
Best for: Couples, Honeymoons and Solo Travellers
Rio Carnival
Brazil's pure vivacity and iconic natural landmarks are a heady combination and there's no better time to visit than during Carnival. This 11-day...
11 Days
From £5,700pp
Best for: Couples, Honeymoons, Families, Groups and Solo Travellers
Exploring Icons in Argentina and Brazil
Argentina and Brazil are a perfect combination and this two-week trip takes in their iconic landmarks. Start at Buenos Aires for a dose of tango...
13 Days
From £3,445pp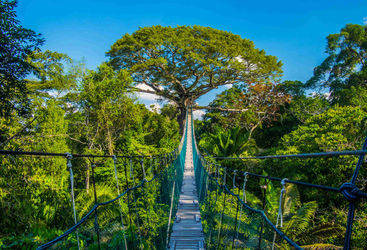 Best for: Couples and Sabbatical Goers
A Luxury Nature Sabbatical in Brazil
Brazil's biodiversity is legendary in scope, this most captivating of countries is a treasure-trove of natural wonders. Spend five weeks experiencing...
37 Days
Places to Stay in Iguacu Falls
Belmond Hotel Das Cataratas
If you're going to visit one of the world's largest waterfalls, then you really should stay within the national park itself, leaving only...