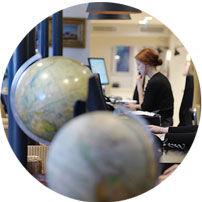 Slow Travel is all about swapping planes for trains, and exchanging four wheels for two (or even forgoing wheels all together in favour of your own two feet). It's about letting yourself sink into a wonderfully unhurried state of mind where each moment is deliberate, gentle and purposeful. The Original Travel definition of Slow Travel is travelling by modes of transport other than plane or car; such as train, horse, walking, biking, boating and more. When we're planning your trip, we can incorporate these zen-inspiring, slow-yourself-down modes of transport into your itinerary. At heart it's all about appreciating the surroundings as you go,
and being at one with them, which you simply can't do when flying or driving, whether it be gently cruising down the Mekong River in Indochina or journeying through Peru's Sacred Valley aboard a scenic train to Machu Picchu. That's where our collection of slow travel holidays comes in, dedicated to putting the brakes on and slowing down in our fast-paced modern world. Because sometimes (excuse the cliché) it's as much about the journey as it is the destination.
Slow Travel Ideas
A few suggestions to get the holiday planning process started
A few of the benefits of travelling with us
Review
What our clients say about us
This is the first time we went on a trip with Original Travel, a specialist advisor who listens to our expectations, and really the feeling of being pampered from departure to arrival. The concierge service is so efficient that we quickly become addicted.
Slow Travel Guide
Practical advice, client testimonials and inspiration to help you prepare for your holiday
Contact one of our specialists