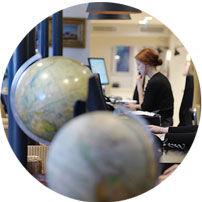 Slow travel invites you to relish the journey just as much as the destination and encourages your travel time to become an adventure in itself. Thailand's diverse landscapes – a tapestry of rice paddies, rainforests, cities and sandy beaches – deserve to be appreciated in all their glory, a luxury which slow travel affords. Most of the country is well-connected by trains and buses, so with no need to rush from A to B you can settle in for a slow-paced excursion through the lush Thai countryside. Slow travel in Thailand allows you to see the country from a different perspective and in a new light; one which illuminates its storied past,
ancient monuments and eclectic culinary traditions.
Other Thailand collections
A few of the benefits of travelling with us
What our clients say about us
Thailand customer reviews (2 reviews)
4.5/5
We had a great time. Everything went well and according to the plan. The hotels were all outstanding and in Samui we got a free upgrade to one of their residences with a private pool - what an experience.
Thailand Guide
Practical advice, client testimonials and inspiration to help you prepare for your holiday
Contact one of our Thailand specialists