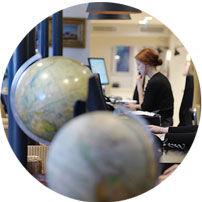 We are seeing several themes coalesce as we gradually emerge from the shadow of coronavirus. Chances are we're going to recalibrate our radars and look to explore much closer to home; that means more staycations for sure, but also a re-evaluation and revived romance with Europe. At the same time, we're going to want to get away from the crowds even more than before. That's not always easy to do in Europe, but the continent is part of Original Travel's DNA, so we know those secret spots that are on a completely different page of the atlas from the usual popular spots, and far from the nearest beaten track.
This combination is why we're so excited to launch our new portfolio - Near Frontiers - showcasing the best European wilderness regions; places where you won't see another soul, but conversely stand a good chance of seeing some of the remarkable species (think polar bears, wolves, bison and more) that call these remote and beautiful places home. Even better from the perspective of our new Travel Less, Travel Better philosophy, many of these near frontiers can be reached by train, stopping en route in some similarly intriguing (albeit, by definition, not remotely remote) spots. See below for our portfolio of places that are so near, yet so far-flung.
Near Frontiers Holiday Ideas
A few suggestions to get the holiday planning process started
Near Frontiers Holidays by country
A few of the benefits of travelling with us
Review
What our clients say about us
This is the first time we went on a trip with Original Travel, a specialist advisor who listens to our expectations, and really the feeling of being pampered from departure to arrival. The concierge service is so efficient that we quickly become addicted.
Contact one of our specialists