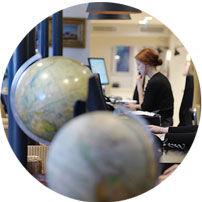 Big Five safaris are the stuff of legend. Most safari experts will tell you not to expect to see all five big beasties (lions, leopards, rhinos, elephants and buffaloes) in one go and, while we agree, there's no harm in being ambitious. And why are those particular animals deemed to be the 'Big Five' we hear you ask? It's not because they are the largest, or even most interesting, it is that they are, traditionally (and tragically), the hardest and most dangerous animals to hunt on foot. It is also worth noting that it is only black rhinos that feature in the Big Five, as white rhinos are much more docile animals.
Both species of rhino are now, of course, critically endangered.
Big Five Safaris Holiday Ideas
A few suggestions to get the holiday planning process started
Big Five Safaris Holidays by country
A few of the benefits of travelling with us
Review
What our clients say about us
This is the first time we went on a trip with Original Travel, a specialist advisor who listens to our expectations, and really the feeling of being pampered from departure to arrival. The concierge service is so efficient that we quickly become addicted.
Big Five Safaris Holidays Guide
Practical advice, client testimonials and inspiration to help you prepare for your holiday
Contact one of our specialists