Start your day today with a fresh, fruit-filled breakfast on the deck. Then, don your swim wear and spend your morning taking full advantage of your prime location in an isolated spot in the sea.
You have the choice to go on a dive to explore a vibrant thila (submerged pinnacle) and an overhang of soft corals, or to stay above water and go water skiing and windsurfing around the boat.
This afternoon, after lunch and an hour or so sitting in the sun, join the marine biologist on a guided snorkelling trip, or go in search of pelagic fish on a channel dive.
Cocktails will be ready and waiting for you as you get back on board for sunset drinks and dinner. Then, suitably full and tired after the day's activities, retire to the lounge where you can watch back some of your footage from the day on the TV.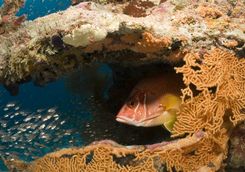 Additional Activities
Get up extra early to start your day with a sunrise dive