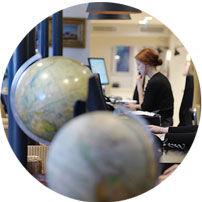 The Norwegian capital of Oslo is nestled in the hollow of a fjord at the edge of vast forests; an urban centre that's as connected to the land as it is the sea, it's a beguiling city that's fast becoming one of Scandinavia's coolest. Culture meets the outdoors during Oslo and southern Norway holidays, where you can spend as much time in art galleries and museums as you can getting lost among the trees in forests like Nordmarka, which is just a stone's throw away from the centre. While cutting edge architecture isn't an obvious selling point of Oslo, there are many constructions in the city worth
a visit for their experimental design that's not afraid to break the mould - the sloping, spectacular Oslo Opera House is just one of our many favourites. From there, head to the recently-developed central harbour where you can take a dip in the Sørenga seawater pool, then relax at the side of the water in a hip cafe and drink coffee (the city is renowned for it). Escape routes out of the capital are numerous and they're all tailored for the discovery of a wild, unabashed landscape. To know Norway is to know nature; venture into the wilderness for at least a day or two at any time of the year - head to the slopes in the winter, skis in hand, or find yourself as you get lost in the country's greenery during summer.
Oslo and Southern Norway Holiday Ideas
A few suggestions to get the holiday planning process started
Norway Regions
Discover more 100% tailor-made holiday ideas
A few of the benefits of travelling with us
What our clients say about us
Norway customer reviews (5 reviews)
4.3/5
Just home from the most incredible trip to Northern Norway. We had it all from clear skies and bright sunshine to full snowstorms, and saw plenty of the northern lights. Thank you again to The Voyageurs Collection for organising such an incredible experience for us.
Norway Guide
Practical advice, client testimonials and inspiration to help you prepare for your holiday
Contact one of our Norway specialists