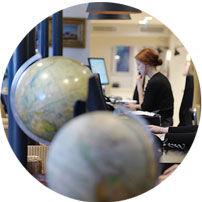 To discover the wilderness of northern Norway is to discover Finnmark; a vast, captivating land of never-ending valleys and intense coastline within the Arctic Circle. Occopuying the northernmost point of mainland Europe and claiming the title of the largest region in the country with the smallest population – Finnmark is truly a tale of extremes. Here, the landscape and wildlife reign supreme and you're guaranteed to come back with more stories than souvenirs. Along the north and west coast on the Barents Sea, acquaint yourself with this wonderful wilderness: beautiful bays; fjords and straits; raw,
rugged islands and lands dominated by colonies of seabirds, mountains and glaciers. Small, colourful fishing villages dot the coastline and stand out from the barren landscape like a flare in the night sky. Visit one during your Finnmark and Arctic holidays and you'll likely be the only out-of-towner around. In the east, dense spruce and pine forests extend out as far as the eye can see; welcome to the territory of the brown bear, lynx and elk, where you're more likely to spot a wild animal than a fellow traveller. The county's heartland is dominated by the Finnmarksvidda Plateau, an expansive region of vast, flat land that's punctuated with stunning lakes, valleys and mountains. It remains the preserve of the Sami, the oldest indigenous people of the country, who mark the change in season between winter and summer with the epic migration of reindeer across the striking land. A stay in Finnmark is inevitably an outdoor sports paradise, with husky safaris, snowshoe expeditions, ice fishing and snowmobile-driving all part of the experience. The white desert of winter reveals its true supernatural powers at night under the lights of the aurora borealis – an elusive natural display of colour that fill the sky as if by magic. Enter the realm of northern Norway and discover a region that will captivate and enchant.
Finnmark and the Arctic Holiday Ideas
A few suggestions to get the holiday planning process started
Norway Regions
Discover more 100% tailor-made holiday ideas
A few of the benefits of travelling with us
What our clients say about us
Norway customer reviews (5 reviews)
4.3/5
Just home from the most incredible trip to Northern Norway. We had it all from clear skies and bright sunshine to full snowstorms, and saw plenty of the northern lights. Thank you again to The Voyageurs Collection for organising such an incredible experience for us.
Norway Guide
Practical advice, client testimonials and inspiration to help you prepare for your holiday
Contact one of our Norway specialists