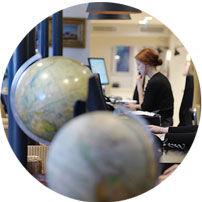 Mentioning the Fjords might conjure images of enormous cruise ships packed with pensioners, but this is an undeniably and staggeringly beautiful part of the world, and there are ways and means of seeing it besides from the deck of a cruise liner. While the likes of the Geirangerfjord and the Nærøyfjord are rightly UNESCO World Heritage Sites there are other, less well known, places to explore in the region including a 'private' fjord at the end of which sits a tiny and remote homestead hotel. There's also the impossibly pretty shoreline hugging city of Alesund and to the north of the city the Atlantic Road,
recently voted the most incredible road (as Jeremy Clarkson would no doubt say) '... IN THE WORLD.' Then there's Bergen, Norway's second city, built in the 11th century and still as charming today with its beautiful harbour, fresh fish markets and many museums and art galleries. Both Bergen and Alesund are pretty stepping stones to the most spectacular mountains and fjords in the region and once you've explored this stunning area in all its panoramic glory on your Fjords holidays, it won't just be Monty Python's Norwegian Blue parrot who'll be pining for the Fjords.
Bergen and the Fjords Holiday Ideas
A few suggestions to get the holiday planning process started
Norway Regions
Discover more 100% tailor-made holiday ideas
A few of the benefits of travelling with us
What our clients say about us
Norway customer reviews (5 reviews)
4.3/5
Just home from the most incredible trip to Northern Norway. We had it all from clear skies and bright sunshine to full snowstorms, and saw plenty of the northern lights. Thank you again to The Voyageurs Collection for organising such an incredible experience for us.
Norway Guide
Practical advice, client testimonials and inspiration to help you prepare for your holiday
Contact one of our Norway specialists