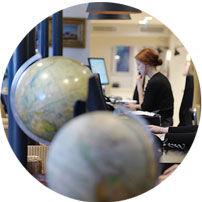 Eastern India retains much of India's colonial architecture and atmosphere, and Calcutta is an endlessly fascinating city, but there is far more to see aside from the capital of West Bengal. Calcutta had, until recently, a reputation for squalor and poverty, but in this vibrant city of 13 million inhabitants sits an important part of east India's historical heritage in buildings such as the Marble Palace, the Botanical and Eden Gardens, the Victoria Memorial, and in the museum. This delta is home to one of Eastern India's many and diverse ecosystems - Sunderbans with its huge mangrove forests (where
we have a huge replanting programme in place) and tiger reserve. There's even more to Eastern India holidays: further to the north the Himalayan foothills are perfect for trekking. One of the key areas is Darjeeling, where you can stay in a lodge surrounded by rolling tea plantations and spectacular views of the Himalayas. From here you can continue north into Sikkim for a few days walking. Once an independent Himalayan Kingdom like Bhutan, the state is scattered with monasteries along what was once the main Himalayan trade route.
India Regions
Discover more 100% tailor-made holiday ideas
A few of the benefits of travelling with us
What our clients say about us
India customer reviews (4 reviews)
4.5/5
Excellent service throughout from Miranda and team. Great guides, driver and hotel. Special mention to our driver Vinod. Excellent service. All worked very well. Great choices of guides and hotels.
India Guide
Practical advice, client testimonials and inspiration to help you prepare for your holiday
Contact one of our India specialists