A Sri Lanka winter sun holiday offers more than just lying on a beach (although there's plenty of time for that too). With a fascinating culture to discover, beautiful green tea hills, countless ancient sites, culinary delights and wonderful wildlife, Sri Lanka is a real winner when it comes to winter escapes.
If you're desperate for culture on your winter sun holiday, you're spoilt for choice in Sri Lanka, with must-see UNESCO World Heritage Sites at every turn, including the old town and fort of Galle, the sacred city of Kandy, the iconic Sigiriya Rock Fortress and the country's beautiful central highlands. If you fancy diving into the country's foodie culture, we can recommend our favourite spots to sample all the local delicacies including hoppers, kottu roti and sour fish curry (nicer than it sounds, we promise), whether on a street food tour or as part of a cooking lesson.
Wildlife lovers, too, are well catered for here. Enjoy a Sri Lankan safari in one of the national parks - such as Yala, Wilpattu and Gal Oya - and keep your eyes peeled for elusive leopards as well as elephants, deer, monkeys, and hundreds of bird species. Top off your safari adventure with a stay in a tented camp or rustic lodge and fall asleep to the sounds of the jungle. For wildlife of the marine variety, head to the serene south coast where it is whale watching season between November and April, meaning that your chances of seeing a blue whale, as well as dolphins, are very high.
And, if you're keen to add on some extra beach time and R&R to your Sri Lanka winter sun holiday, we can arrange for you to hop across to the beautiful Maldives, which makes for a pretty perfect combo if you ask us.
Itineraries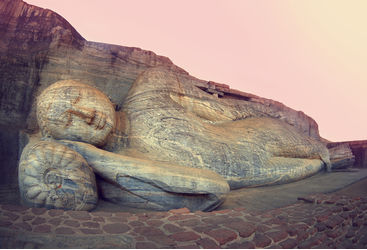 Best for: Couples and Honeymoons
Sri Lanka and the Maldives
Spend a dreamy five nights in the Maldives and combine it with a Sri Lankan stopover for a dose of culture alongside your beach break. Start...
12 Days
From £3,260pp
Best for: Couples, Honeymoons and Solo Travellers
Highlights of Sri Lanka
Take two weeks to explore the bustling capital before swapping city sights for the Cultural Triangle, with its tranquil paddy fields and ancient...
15 Days
From £2,830pp
Best for: Couples, Families and Solo Travellers
An Active Adventure in Sri Lanka
This 15-day trip in Sri Lanka is designed for those who can't bear to sit still. Instead, trek, swim, cycle, sail, stroll and pick your way around...
15 Days
From £4,075pp