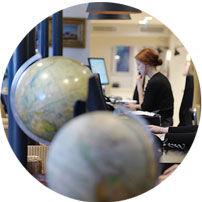 For a summer holiday with major sizzle, Spain is hard to beat. One part beach paradise, one part slick city escape and yet another part natural oasis, Spain is a chameleon, ready to suit all who visit. Spain summer holidays can take many forms: let your cares drift away on its exceptional coastline; sink deep into the sandy beaches, bars and restaurants of its lively resort towns; take things up a notch and trek the Pyrenees; or head to the deep river gorges of Sierra de Guara, near Zaragoza, to partake in a spot of canyoning and experience the exhilaration of the great outdoors. Make the most of
the summer sun and visit some of the most exciting cities of Andalusia. Granada, Cordoba, Seville and Malaga will give you an irresistible taste of Spain with world-class tapas, passionate flamenco dancing, glorious architecture and incredible history. Whichever way your Spanish trip unfolds before you, expect to be dazzled by the charm of this unquestionably charismatic nation.
Summer Holidays by country
A few of the benefits of travelling with us
What our clients say about us
Spain customer reviews (4 reviews)
4.5/5
I must tell you that you made a believer out of me. I travel a lot for business globally and everything you organised was top of the line. I was so enthusiastic about your team that I gave your coordinates to my flight neighbour. It says it all! Thank you for a wonderful vacation to Spain.
Spain Guide
Practical advice, client testimonials and inspiration to help you prepare for your holiday
Contact one of our Spain specialists