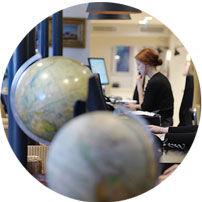 You don't need to fly to far flung destinations to experience the joys of solo travel. Northern Spain's Basque country is the perfect place for an indulgent trip for one complete with fantastic food and wine. Head to the town of Ordizia to stroll around its fabulous foodie market and learn how fiercely protective its people are of their regional dishes and don't miss a trip to San Sebastian, the jewel in Spain's culinary crown. The seaside city is a food-lover's paradise with its plethora of food markets and iconic seafood dishes. Join locals in their pre-dinner rituals at little
pintxo
bars and settle down for an evening of authentic and unique tapas. One of the benefits of Spain solo travel is that it really allows you delve deep into the culture – and by culture we mean cuisine. Maybe you'll discover your new favourite dish at one of the Basque Country's highly secretive culinary societies or find yourself salivating at Sevillian street food vendors, praying they haven't run out of moreish Cazón en adobo (marinated dogfish). Speaking of cravings, a quick trip to Madrid and Barcelona are sure to satisfy, with their quirky neighbourhoods, opulent art galleries and modern rooftop bars.
Spain Solo Travel Ideas
A few suggestions to get the holiday planning process started
A few of the benefits of travelling with us
What our clients say about us
Spain customer reviews (4 reviews)
4.5/5
I must tell you that you made a believer out of me. I travel a lot for business globally and everything you organised was top of the line. I was so enthusiastic about your team that I gave your coordinates to my flight neighbour. It says it all! Thank you for a wonderful vacation to Spain.
Spain Guide
Practical advice, client testimonials and inspiration to help you prepare for your holiday
Contact one of our Spain specialists