I'm no Professor Brian Cox, and I'm not about to start banging on about antimatter, circumstellar discs and magellanic clouds (although they all sound marvellous), but there are few greater feelings than the sense of wonderment that comes with tipping your head back and gazing up at the night sky. It's alarming, then, that some scientists predict that, due to the encroachment of light pollution, we may not be able to see the night sky and stars across large sections of the planet beyond 2025. The message is clear - appreciate them while you still can. With that in mind, we've channelled our inner Edward Hubble and scoped out (sorry) the best stargazing destinations around the world...
Sal Salis Ningaloo Reef, Australia
Smack bang in the middle of a designated dark area in Western Australia's Cape Range National Park is Sal Salis Ningaloo Reef, whose wilderness tents blend seamlessly into the surrounding sand dunes. Watch stars dance in the night sky against a soundtrack of lapping waves from the comfort of your four-poster bed or while lying on the beach below. With only nine tents, you'll feel truly tiny against the vast planetarium.
If you fancy a trip to Western Australia, browse our itineraries here.
Ladakh, India
At a staggering 11,500ft-high in North-Eastern India, you'll be forgiven for attempting to reach out and touch the night sky from the hills of Ladakh. The sheer inaccessibility of the place has enabled it to virtually escape all light pollution, creating a starry night so magnificent Van Gogh would feel positively embarrassed. Watch twinkling stars cascade across a black canvas behind jagged snow-capped mountains from the sophisticated charm of the Shakti Ladakh Village Houses. You might even spy an equally mesmerising snow leopard.
Inspired? Check out this 12-day trip to Ladakh here.
The Atacama Desert, Chile
When there's laws against light pollution you know you're in for a treat. As one of the driest places on earth, the Atacama Desert's wild sandy plains and rugged red canyons will leave you feeling like you've landed on Mars (fun fact: it's actually used to test Mars rovers in simulations). Chile's dedication to preserving darkness has cemented the Atacama's reputation as one of the best stargazing destinations, with the Milky Way so bright at new moon it can cast a shadow. Stay at the divine Explora Atacama and point out the planets from the hotel's own private observatory. And if you need to take your astronomy boffin-dom (technical term) a step further, the ALMA observatory is just a one-and-a-half-hour-drive away.
Fancy a trip to Chile? Have a look at our highlights of Chile itinerary here.
Northern Norway
Where the Atacama Desert is rusty red, Northern Norway is snow white. This region is one of the few places on earth where the Milky Way is overshadowed, by none other than the Northern Lights, making this a real contender in a round-up of the world's best stargazing destinations. Stay in the traditional wooden cabins of Lyngen Lodge and spend your days dog sledding, skiing and the like, before an evening of gawping at the iconic green rivers of the Aurora Borealis snaking across the sky.
Inspired? Have a look at a selection of our favourite Norway itineraries here.
The Makgadikgadi Pans, Botswana
On a recent trip to Botswana's Makgadikgadi Pans, Original Travel expert Matt regaled: 'they're the most incredible stars I have ever seen. Sleeping out on the pans and watching the stars... I hardly slept!' These arid pans are the remains of the world's largest super lake, making for a surreal setting to watch the starry night unfold. Spend days exploring the pans' distinctive landscapes and learning about the tribes that survive here, and nights sleeping on bedrolls under skies illuminated with horizon-to-horizon stars.
Find out more about sleeping under the stars in Botswana here.
Namib Rand Nature Reserve, Namibia
Venture to the Namib Rand Nature Reserve, one of Africa's largest private nature reserves, to experience one of the naturally darkest (yet accessible) places on Earth. This is one of the best stargazing destinations for travellers who want to enjoy sweet solitude on desert hikes by day and epic celestial shows and sleep outs under an ocean of stars come night.
For more awesome experiences in Namibia, explore our selection of itineraries here.
Nova Scotia, Canada
Venture to the wilds of eastern Canada to gaze at the brightest stars in Nova Scotia. A night in Kejimkujik National Park offers the full stargazing package from outdoor shows accompanied by music and stories, to night-time hikes and even the occasional canoeing excursion. For the true astronomers-in-training there are educational programmes that teach visitors how artificial light affects humans and wildlife, as well as the value of these Dark-Sky Preserves.
Fancy your own Canada adventure? Check out this epic 14-day tour here.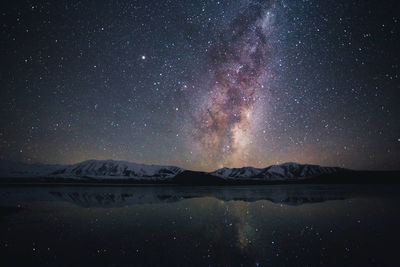 Lake Tekapo, New Zealand
On New Zealand's South Island lies Lake Tekapo, a destination that is picturesque during the day and absolutely dazzling by night. Crystal-clear waters and craggy mountains make the perfect backdrop for a truly dramatic stargazing experience that is guaranteed to knock your binoculars off. Join a guided tour of the Dark Sky Reserve to learn all about the southern skies and the fascinating mythology and legends attributed to celestial objects by different cultures around the world.
Find inspiration on where to visit on the South Island here.