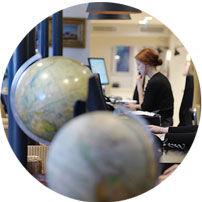 New Zealand's South Island is one of those destinations that is so incredibly beautiful that it's difficult to believe that it's real. As a result, many visitors flock to the South Island for its dramatic landscapes of towering alps, jagged coastlines, vast plains and the adventurous possibilities they present. However there is more to this island than bungee jumps and sky dives. Gorgeous glaciers, great lakes, towering mountains, winding paths, lush greenery and a relatively tiny population mean nature well and truly reigns supreme here. On your South Island holidays, drive for miles and miles
without ever seeing another soul and take the scenic route for the moments when you'll find yourself accidentally stumbling across one of the world's most spectacular views. Add in a scattering of wineries, all-round excellent cuisine, beautiful towns and cities, and South Island holidays are hard to beat.
South Island New Zealand Holiday Ideas
A few suggestions to get the holiday planning process started
New Zealand Regions
Discover more 100% tailor-made holiday ideas
A few of the benefits of travelling with us
What our clients say about us
New Zealand customer reviews (4 reviews)
4.5/5
The service was first class from the very first contact with them to the follow up after we returned home. They were efficient, helpful, knowledgeable, flexible and attentive.
New Zealand Guide
Practical advice, client testimonials and inspiration to help you prepare for your holiday
Contact one of our New Zealand specialists