Luxury Moroccan Adventure
Who: Couples, Honeymoons and Solo Travellers
From £6,870pp
Cultural Curiosities: A Luxury Moroccan Adventure
With adequate time for exploring souqs, sipping Moroccan mint tea and relaxing in a hammam spa, this 22-day trip around Morocco is jam-packed with culture, history and beautiful walks. You will stay in luxurious Kasbahs, visit all four imperial cities and experience the thrill of camping in the desert.
Itinerary at a Glance:
Craft your own handmade leather journal in a book-binding workshop
Explore the roman ruins of Voubilis
Wander around the beautiful blue city of Chefchaouen
Enjoy a gentle hike through the serene Talassemtane National Park
Learn about the development of the Beat generation in Tangier
Ride a camel through the desert before camping under the stars in a luxury tent
Trek into the foothills of the Atlas Mountains and stay in a remote village overnight
Why Book with Original Travel?
Just a few of the extra touches that come as standard on an Original Travel holiday...
See More
All of the holidays we create are completely tailor-made to you
This sample itinerary is intended to give you a flavour of what we can do
Your Morocco adventure holiday starts here. Feel like royalty as you skip past the queues with our fast track through check-in and security, accompanied by one of the Original Travel team members. Then sit comfortably in the airport lounge, enjoying free drinks and snacks prior to boarding your short three-and-a-half-hour overnight flight to Casablanca.
Once you have cleared customs and collected your luggage, your driver will be waiting to meet you at arrivals, holding a board bearing your name.
Spend the rest of the day in Casablanca relaxing in your hotel or perhaps exploring the city with handy tips from our Concierge.
Day 2:

The Imperial City of Fez
This morning, get up bright and early for your four-hour private transfer to Fez where you will be staying for the next four nights.
Once you've settled into your hotel, spend the rest of the day exploring Morocco's oldest Imperial City. Founded approximately 1,200 years ago, Fez is a real beauty, adorned with historical architecture and quintessential streets filled with colourful souqs.
Your expert guide will enrich your knowledge with the history of Fez and how the city evolved over the years. You will visit leather tanneries and Al Qarawiyyin University before stopping for a well-earned lunch in the middle of the medina.
Continue with your guide to the Jewish neighbourhood, 'Mellah', which dates back to the 15th century. Visit the Ibn Danan synagogue and the Jewish Cemetery which contains tombstones that are 400 years old.
End your busy first day in Fez by treating yourself to a relaxing massage in a traditional hammam, the ultimate indulgence after hours spent travelling to get here.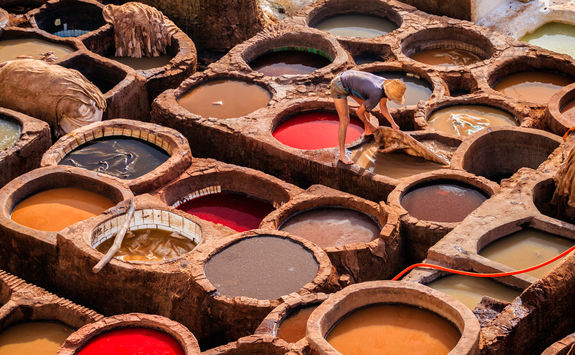 Day 3:

Book-binding Workshop
Get crafting today as you participate in a book-binding workshop. Learn the step-by-step technique of crafting handmade leather journals with long stitches - skills formerly only taught to young Fessi apprentices.
Enjoy an afternoon at your own leisure. Consider wandering the wonderful souqs in the medina; here you will find a wealth of wonderful crafts and treasures to browse and perhaps bring home.
Day 4:

Roman Volubilis and Islamic Meknes
Continue your Morocco adventure holiday as you travel back in time on a visit to the ancient Roman ruins of Voubilis.
Dating back to the third century B.C. and growing rapidly under Roman rule, the site still contains many well-preserved mosaics which are a spectacle to see.
En route back to Fez, stop in at another of Morocco's imperial cities, Meknes. Capture a picture by the city's famous door - Bab Mansour - and admire the pretty palaces and medersas the city has to offer.
Today your driver will take you on a scenic route across the hilly Rif Mountains. After just over three-and-a-half hours, you will arrive in the famous blue city of Chefchaouen.
You will have the afternoon free to explore this dazzling little city. The entirety of Chefchaouen is painted in harmonic blue shades and is a true wonder to see; pictures just don't live up to its grandeur.
Day 6:

The Blue City and Talassemtane
Today you will enrich your knowledge with the history of Chefchaouen before lacing up your hiking boots to discover Talassemtane National Park.
A local guide will accompany you around the Moorish fortress of Chefchaouen this morning and teach you about the history of its inhabitants and the reason the city sparkles blue.
Swap urban exploring for a hit of nature in the afternoon while you walk through the sacred landscapes of Talassemtane National Park. Wander along quiet trails through the glorious park and admire the peaceful surroundings.
After a scenic drive across the Rif Mountains, check in to your boutique accommodation and enjoy a beautiful view of Tangier and the Atlantic Ocean while savouring a scrumptious late lunch on the terrace.
Today is a day to relax and bask in the warmth of Morocco's sun. Visit one of the nearby Hammams for a soothing massage - well deserved after the busy week you have had so far.
Head to highly acclaimed Cafe Hafa for sunset and sip a customary Moroccan mint tea. This establishment has been visited by many celebrities including The Beatles, Randy Weston and Sean Connery.
Day 8:

History of Tangier
After resting your feet yesterday, today will see you trotting around Tangier to learn about its literary and artistic history.
Tangier was a key location in the development of the Beat generation - a post World War II American counterculture movement. Follow in the path of the Beat Generation, from the Socco squares to the Hotel Continental, losing yourself in the American Legation museum and legendary libraries along the way.
Following lunch, delve into the peaceful streets of the Kasbah and its history museum, and then end the day listening to Andalusian musicians in the intimate Les Fils de Detroid.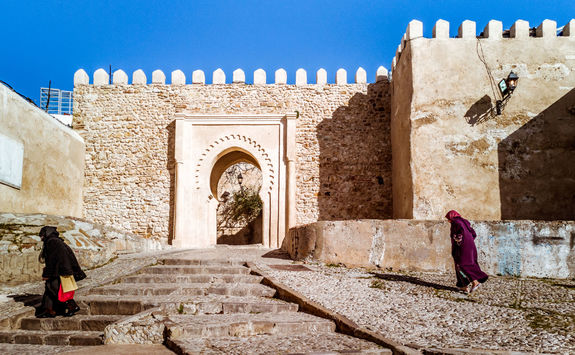 Your Morocco adventure holiday continues today with a scenic drive across the Rif Mountains up to the capital of Rabat. After the three-hour drive, enjoy a simple but delicious lunch in a beautiful courtyard restaurant prior to checking into your hotel.
The afternoon is yours to spend at your own leisure. Sooth yourself with a traditional Moroccan hammam ritual at the in-house spa, or relax in the sun and lose yourself in a good book. Rabat is a haven of peace and greenery, ideal for a leisurely stroll before a nourishing Moroccan dinner.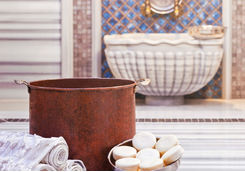 Day 10:

Rabat to Marrakech
Take in views of the beautifully blue Bouregreg river, sprinkled with small rowing boats, as you take a tour of Rabat and delve into its historical past.
Starting at the picturesque Chellah necropolis, you will be lead towards Hassan tower and the Mausoleum of Mahammed V. stopping for some unmissable mint tea in the Oudaya Kasbah, accompanied by marvellous views over the Atlantic Ocean.
Following a fresh lunch, rest your feet while your driver transfers you to your hotel in Marrakech, a journey that will take approximately three-and-a-half hours.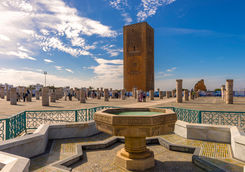 Day 11:

Massages in Marrakech
Enjoy a relaxing day at your hotel today. With five riads, the hotel is designed to feel as though you are living in one of the city's old palaces.
Boasting one of the best spas in the city, complete with two traditional hammam steam rooms, this is the ideal time to indulge in the remarkable Moroccan massages and wellness treatments.
In the evening, your guide will take you to the magical medina of Marrakech, where you will tour the tastiest food stalls and visit a myriad of souqs - a must on your Morocco adventure holiday.
Day 12:

Marrakech and Jardin Marjorelle
Lose yourself in history and Moroccan culture today as you explore Bahia Palace, the Saadian tombs, the Secret Garden and the Koutoubia Mosque.
Stop for lunch in the medina before visiting Jardin Marjorelle, a sprawling, colourful botanical garden. The property was purchased by the fashion designers Yves Saint-Laurent and Pierre Berge in the 1980s, and is now open to the public. The garden homes the Islamic Art Museum, the Berber Museum and the Yves Saint Laurent Museum, all well worth a visit.
Day 13:

Day at Leisure in Marrakech
After the whirlwind of activities on your Morocco adventure holiday, today is yours to do as you wish. Perhaps you fancy exploring the souqs to stock up on gifts and souvenirs or pop back to a museum if you missed one yesterday.
Tuck into a light lunch in the peaceful courtyard of a local non-profit restaurant and come evening, enjoy an animated dinner with live music performances and belly dancing shows.
Days 14-17:

Desert Stay and Camping
Your Morocco adventure holiday continues today with an epic four-and-a-half-hour drive across the stunning Atlas Mountains and into the southern desert. Here, you will get to enjoy the unforgettable experience of camping in the desert. With unpolluted skies, you'll enjoy some of the best star gazing conditions in the world.
You will be spending the night in a luxury tented camp in Skoura, one of Morocco's magnificent oases. During your stay you will have your own private driver and guide, and have the option to partake in a host of amazing activities including camel back riding across the savannah and a romantic walk through the Valley of Roses.
Days 18-20:

Atlas Mountains
From the southern desert, travel to the foothills of the Atlas Mountains. After a six-hour drive, check into your hotel and gaze, wide-eyed, over the beautiful snow-capped peaks towering above the desert floor.
Spend the next couple of days trekking or biking with an experienced guide through walnut groves and past Berber goatherds. If you're feeling adventurous, try an overnight trip to a remote village, accompanied by a donkey laden with all the necessary food and bedding for an overnight stay.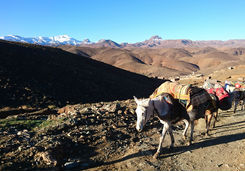 Meet your private driver today and travel to the breezy city of Casablanca on the Atlantic coast. The drive should take approximately three-hours-and-forty-minutes depending on traffic.
Casablanca became the chief port of Morocco during the French protectorate and since then has grown and developed rapidly. This is a wonderful city for travellers who want to feel like a local, rather than a tourist.
While the sun is beaming, lose yourself in the Art Deco and Habbous neighbourhoods, and visit the impressive Hassan II mosque - the largest mosque in Africa, and the second tallest in the world.
After a dip in a Turkish bath, don your finest clothes and experience Casablanca's vibrant nightlife; the perfect way to celebrate the success of your Morocco adventure holiday.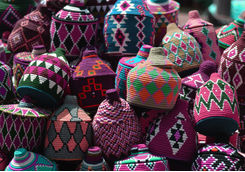 After a lazy morning, pop down to the nearby souqs to spend your last few dirhams. Sip mint tea and soak up your final bit of sun.
The day is yours to relax and enjoy the final moments of your Morocco adventure holiday. When you are ready, your driver will be waiting to take you on the short forty-minute drive to the airport for your flight home.
All of the holidays we create are completely tailor-made to you
This sample itinerary is intended to give you a flavour of what we can do
A Rough Idea of Price
While all of our holidays are completely tailor-made and prices will vary based on things like time of year and level of accommodation, we want to give you as good an idea of how much this itinerary will cost. The below prices are based on two people sharing.
This Itinerary
If you would like to book the itinerary mentioned above, with economy flights, during mid-season and staying in our preferred room category at our preferred hotels.
Bare Necessities
If you would like to pare back the above itinerary by travelling at non-peak times, staying in a standard room and removing some or all of the guided activities.
Bells & Whistles
If you are looking for something extra special, we can discuss with you upgrading your accommodation, flights or activities.
Lucy and Matt are our experts for this itinerary and as seasoned travellers they have the inside track on the most memorable adventures.