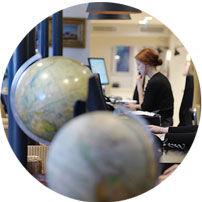 'Where can I go?' It's the $64 million question, and one we're here to answer. The destinations listed in this Collection are those that anyone travelling from the USA can currently visit, according to the State Department's Travel Advisories. Many of these countries require proof of a negative PCR test on arrival, which is eminently manageable, but others might even expect a level of quarantine on arrival, which will likely put off everyone but the most determined (and patient) visitors. Either way, our expert consultants will be able to explain the latest entry requirements - if any - in what is a fast-moving situation,
so you can plan with absolute confidence.
Where Can I Go Now From the US? Ideas
A few suggestions to get the holiday planning process started
Where Can I Go Now From the US? by country
A few of the benefits of travelling with us
Review
What our clients say about us
This is the first time we went on a trip with Original Travel, a specialist advisor who listens to our expectations, and really the feeling of being pampered from departure to arrival. The concierge service is so efficient that we quickly become addicted.
Where Can I Go Now From the US? Guide
Practical advice, client testimonials and inspiration to help you prepare for your holiday
Contact one of our specialists