Itinerary Highlights
Island hop across no fewer than four islands to see the full range of Azorean landscapes
The warm, mild climate is legendary any time of year
Visit Terceira with a private guide, observe cetacean marine mammals off the coast of Pico (April to September)
We will provide you with a car on each island and access to our local Concierge service
Contact one of our Portugal specialists + 44 (0) 20 3958 6120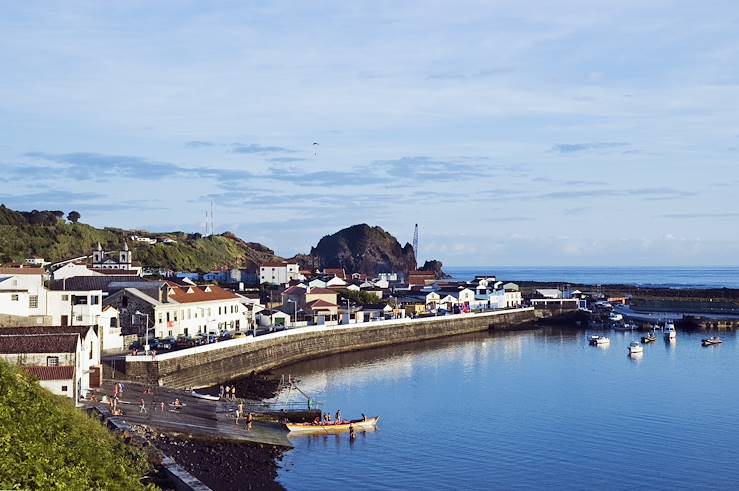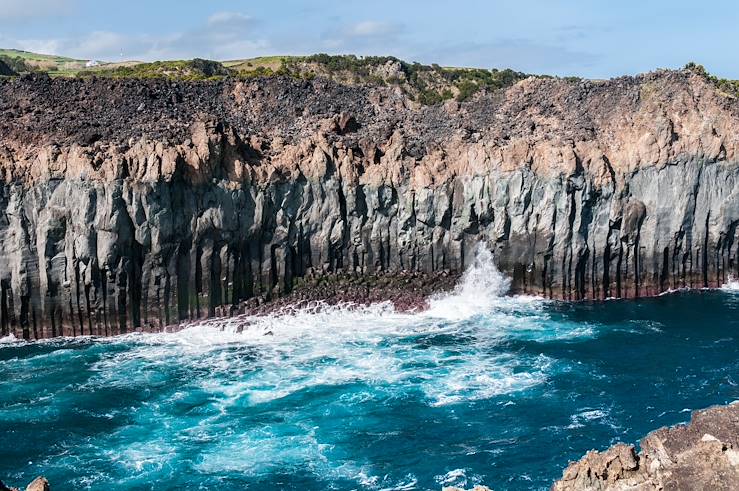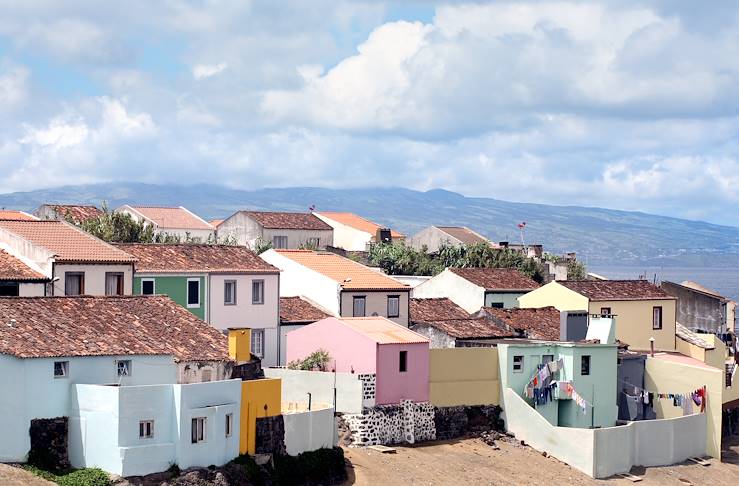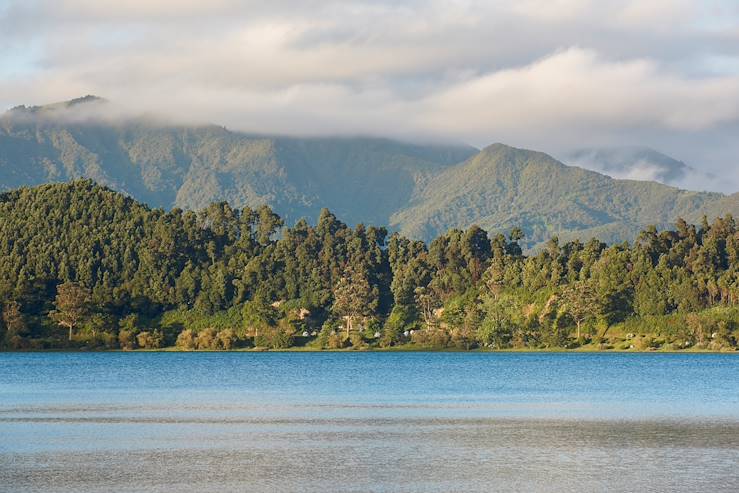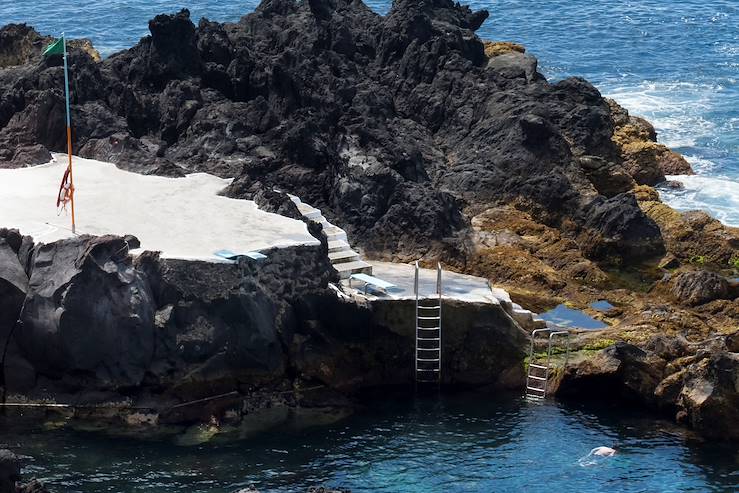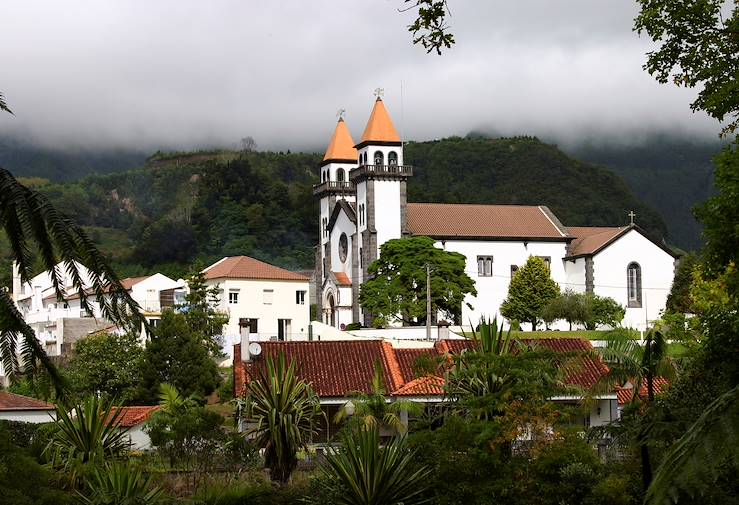 YOUR JOURNEY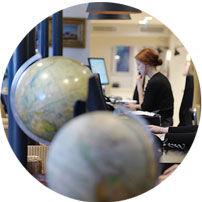 The best way to explore the Azores for the first time is by travelling through the archipelago's four main islands. Those who love calm, authenticity and nature will be enthralled. It might seem tranquil, yet volcanic activity still persists... It is even said that the islands are the last traces of Atlantis, which was supposedly swallowed up in one of their volcanic lakes. The first stop will be
Faial
, nicknamed the Blue Island. It's a lovely blend of lunar landscapes, traditional small harbours, and hydrangea-lined roads, to which it owes its nickname. Horta Marina is one of those mythical harbours where generations of sailors have gratefully disembarked. Then head to
Pico
, called the Black Island because of its ubiquitous volcanic stone.
Pico do Fogo (1.5 miles high) is the highest point not only of the island but of Portugal as a whole. Pico, and in particular its port, Lajes do Pico, also tell the story of an era when whaling made the islands famous. While the exploitation of whales may be a thing of the past, the island has evolved and remains one of the best starting points for observing these wonderful marine mammals' activity. The third stop will be Terceira. Terceira was so named by the Portuguese because it was the third island to be discovered… They no doubt immediately appreciated its patchwork of green fields, natural caves, small multicoloured chapels, and gilded churches. Its treasures lie underwater as well, where divers delight in its lovely discoveries. Lastly, this four-part trip concludes on Sao Miguel, the big sister of all the archipelago's islands in terms of size and activity. In addition to blue and black, there is another shade associated with this natural gem of an island: green. On the Green Island, you can discover verdant landscapes, both wild and agricultural, and an abundance of exotic plants and crater lakes, which provide a mysterious mix of azure and emerald.
Already included in your itinerary – A private tour of Terceira and a boat trip to meet cetacean marine mammals off Pico.


YOUR ACCOMMODATIONS

Some of the selected hotels are found deep in the countryside, while others lie along the oceanic coastline. All of these properties provide lovely settings and special charm. For example, your hotel in Horta offers direct access to the marina and is a pleasant entry point. The hotel in Pico will provide a change of scenery. While it's close to the island's northern coast, it offers a decidedly rural setting not far from the pastures where a few cows graze. Your hotel on Terceira is a beautiful 17th-century mansion with floral tablecloths and refined furniture. Everything is within a few miles of Angra do Heroismo, the former capital of the UNESCO World Heritage listed archipelago. It shares this 17th-century heritage with the hotel we've chosen in Ribeira Grande, which dates back to the same period. Its purpose has varied over the centuries, from military fortress to artists' residence, and now a comfortable hotel. Finally, your accommodation in Furnas provides a change of pace, with its eponymous botanical garden, thermal pool and Art Deco style.

Route
Everything is 100% tailored to you
Arrive at the airport and pick up your rental car. If Faial owes its name to beech trees ('faias' in Portuguese), it is the exuberant carpet of hydrangeas that covers it from the gardens to the roadsides that make it the 'blue island'. The huge Cabeco Gordo (3,422ft) looms over the port of Horta - a welcome haven for sailors making transatlantic crossings.
Two-night stay right next to the port of Horta and its marina. The dining room and terrace allow you to get even closer to the masts and white hulls. Checked fabrics, dark woodwork and dim lighting provide old-world touches, although modernity also gets a look in.

See: the harbour - home to sailors crossing the Atlantic; the Museu Scrimshaw, where you can admire engraved sperm whale teeth; the Caldeira and its beautiful view of the islands of Pico and Sao Jorge; the lunar landscape of Capelinhos volcano, born in 1958 from a spectacular underwater eruption.
Boat ride to Pico Island and Madalena Harbour by small ferry. You can't miss it. This volcano is so high that it casts a shadow across the Atlantic for miles. The Pico do Fogo crater is Portugal's highest point at 7,713ft. Its imposing presence is impressive, as is its brooding dark black colour. Pick up the new rental car and drive to Lajes do Pico, a historic port of the bygone whaling era. Two-night stay close to the village of Prainha. The place is delightfully wild. Its welcoming traditional houses feature volcanic stones and rustic woodwork. This authentic aspect is enhanced by natural scenery which combines the ocean with a lovely rural setting.
Included in the itinerary - Half-day excursion to observe cetacean marine mammals in small groups. An ocean crossroads since transatlantic shipping began, many marine mammals live in Pico's waters. It's not uncommon to cross paths with many species of dolphins such as short-billed dolphins, harbour dolphins and Risso's dolphins, or spotted and striped dolphins. Although the sperm whale is the most common species at these latitudes, it can be hard to spot. You sometimes need to be very patient and wait for it to come up for air. If you're lucky, you'll also be able to approach blue whales (especially from early spring to late summer), as well as pilot whales and killer whales.
Flight to Terceira, northeast of Pico. Today it is hard to imagine that at its peak, the island was home to Spanish galleons, their holds overflowing with cargoes of silk, spices, and gold. And yet... Today, these material riches may be long gone, but the island still has incalculable natural value, embodied in endless gracefully checkered fields, mysterious underground cavities, and the old stones of centuries-old churches.
After picking up your next rental car, drive to Angra do Heroísmo 19 miles away, a colourful old town that has been listed as a UNESCO World Heritage site since 1983. This historic heritage is accompanied by a real cultural vibrancy, through its philharmonic orchestras, cultural centre, and theatre troupes, among other attractions.
Two-night stay in an opulent country house by the sea. Old-world charm and a range of impeccable services combine to create the perfect atmosphere. Modern amenities such as a nice swimming pool, a tennis court, a gym and a garden in bloom, along with a beautifully designed living area further enhance the setting.
To see - The volcanic cave of Algar do Carvao, the 'Imperios' (small colourful chapels) of Praia da Vittoria, the lunar landscape and the natural pools of Biscoitos.

Included in the itinerary - A one-day private tour, which provides an introduction to the island's many attractions. You'll visit some must-see sites such as Monte Brasil, an extinct 3,360ft volcano surrounded by the walls of the Sao Joao Baptista Fortress; Serra do Cume, where you can admire the bay of Praia da Vitoria; the volcanic cave of Algar do Carvao; the volcanic abyss of Enxofre, and the Verdelho Wine Museum.
DAYS 7 to 9
TERCEIRA – SAO MIGUEL
Fly to Sao Miguel and pick up the next rental car. The largest island in the archipelago, Sao Miguel is a must-see, as it provides a kind of overview of the Azores: Ponta Delgada and Ribeira Grande. These modestly-sized towns boast forested landscapes and green plains, to which Sao Miguel owes its nickname of Green Island. While here, visit natural geysers and crater lakes. Three-night stay.
A 17th-century manor house, a military fortress, a lookout post for privateers and pirates, as well as a residence for artists and an orange and tea plantation... it goes without saying that art and history mix beneath the walls of your guest house. Its 124 acres of nature provide optimal modern comfort.
Optional - Private riding trip. Walk, trot and even gallop (if you are very experienced). You'll have an opportunity to explore unfamiliar corners of this lush green island.

DAYS 10 & 11
RIBEIRA GRANDE - FURNAS
Head to the centre of the island and Furnas, famous for its various volcanic manifestations: hot spring, fumaroles (sulphurous gas vents), bubbling mud. These geological phenomena have produced two points of pride for the city: the cozido das Furnas - a dish cooked with the natural steam of the volcano - and the Terra Nostra, its botanical garden, which owes its luxuriance to its extremely fertile soil.
Two-night stay. Nestled in the heart of the eponymous garden, your hotel inherited a beautiful 1930s Art Deco style. Its central location within Furnas makes it possible to easily walk everywhere. A thermal pool tops it all off.

DAY 12
SAO MIGUEL - LISBON - LONDON
Return flight with stopover in Lisbon.
A la carte
A few days in Flores

Flores' nickname of 'flower island' is well-deserved. One of the westernmost islands in the archipelago, it lies at the end of Europe, before the immensity of the ocean and next-stop North America. Flores' beauty is intensely natural. The Morro Alto mountain, lakes, the Rocha dos Bordoes, and its many waterfalls are prime examples of this. Yet man has also left his mark too, in the shape of a few churches, like Nossa Senhora de Lurdes in Fazenda, and through picturesque villages like Faja Grande.
Optional


Riding

A two-hour ride, led by a private guide, through the many hidden trails of Sao Miguel. You'll get a chance to explore a lush green island in more depth, at the pace you choose: walk, trot or gallop, depending on your level.
Optional
A Rough Idea of Price
Dependent on season, accommodation and activities
The estimated cost for this trip is £2,200 to £3,000 per person. This trip is tailor-made to your exact specifications so prices will fluctuate. The cost varies according to several factors, including level of service, duration of the trip and how far in advance you book. The final cost will vary according to several factors, including the level of service, length of trip and advance booking time. The exact price will be shown on your personalised quote. The average price for this trip is £2,500 per person.
International flights with a scheduled airline
Inter-island domestic flights mentioned in the itinerary
Airline taxes and fuel surcharge
One checked bag per passenger
Car rentals on the islands of Faial, Pico, Terceira, and São Miguel
Ferry between Faial and Pico
Two-night stay in Horta in a double room with breakfast included
Two-night stay in São Roque, room only
Two-night stay in Angra do Heroísmo in a double room with breakfast included
Three-night stay in Ribeira Grande in a double apartment, room only
Two-night stay in Furnas in a double room with breakfast included
Half-day ocean excursion to watch marine mammals
One-day tour with a private guide who speaks your language to explore the island of Terceira
Our local Concierge service
A few of the benefits of travelling with us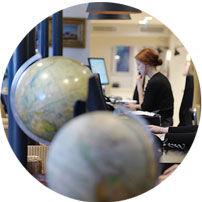 Get in touch
Our experts have the inside track on the destinations they sell and will tailor-make a holiday to your unique requirements.
Contact one of our Portugal specialists