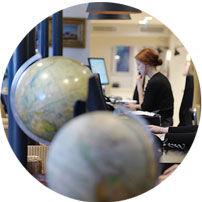 Over the past 18 months or so we've all come to understand what really matters. There are the profoundly important things like family, the small things like hugs, and the genuinely life affirming things like travel. Absence has made all our hearts grow fonder, and has slowly but surely turned wanderlust into wandermust, but it's inevitable that travel looks and feels different than it did 'before'. If we're entirely honest, in an era of overtourism and endless flight routes,
Top pick collections
Discover the world
Yes, you read that right; this is actually a travel company suggesting we might all travel less. Let us explain. For starters, we're not advocating giving up travel. If you're on this website, that idea is likely every bit as anathema to you as it is to us. Seeing the wider world and marvelling at other cultures and landscapes is quite simply one of the reasons for being alive. Rather, the 'Travel Less' part can mean flying less but staying longer (such as on a sabbatical); or flying less and taking more train or road trips from the UK instead. We're eminently relaxed about either of these options, and when you do actually fly, you can do so safe in the knowledge that we absorb 100% of the carbon emissions.
How to Travel Better
And on the subject of better, the challenge to 'Travel Better' is one we relish because we've been helping our clients do just that every day since we launched back in 2003. Again, in terms of interpretation, 'better' can mean a number of different things. To some, 'better' might mean only jumping on a plane to take the big-ticket bucket list trip of your dreams; or being a better traveller by practicing 'Philantourism' or 'Giving Back' when you're away. 'Better' can also refer to the process of travel itself; availing yourself of Original Travel's additional services such as fast track and lounge access at the airport (which has never been more important) or challenging our clued-up Concierges to show you a side to a destination that only the locals know.
Whichever way you want to interpret the phrase, we're here to help you navigate the new travel landscape, and tailor-make a trip that's perfectly designed to help you travel better.