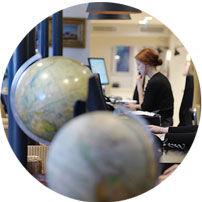 Philantourism: a combination of philanthropy and tourism; or the act of choosing a holiday or experience in order to support a destination, in the process ensuring that travel can be a force for good. While there's nothing wrong with a healthy dose of hedonism on holiday - in fact, we would almost insist on it - it is always nice to know that your money is supporting a worthy local cause. An excellent way (if we do say so ourselves) of balancing the two is by adopting our concept of 'Philantourism'. A natural evolution of 'voluntourism', but with less of a time commitment, you can support a destination
simply by being there; you don't need to do anything after you arrive other than enjoy yourself and put the money that you'd be spending on your trip anyway into the local economy, including hotels, restaurants and small businesses. In short, we're simply suggesting consciously choosing to visit some seriously special places that remain excellent holiday destinations despite recent hardships. Choose philanthropic travel and you enjoy an incredible adventure while your chosen destination gets some much-needed support, both moral and financial. Win-win if there ever was one.
Philantourism Holiday Ideas
A few suggestions to get the holiday planning process started
Philantourism Holidays by country
A few of the benefits of travelling with us
Review
What our clients say about us
This is the first time we went on a trip with Original Travel, a specialist advisor who listens to our expectations, and really the feeling of being pampered from departure to arrival. The concierge service is so efficient that we quickly become addicted.
Philantourism Holidays Guide
Practical advice, client testimonials and inspiration to help you prepare for your holiday
Contact one of our specialists