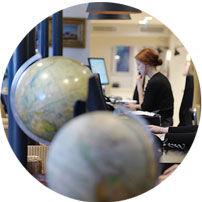 With its sugar-white sand beaches, luxurious resorts and dreamy dive sites, it's no surprise that the Maldives is a top destination for a Robinson Crusoe-style getaway. This serene paradise has been enticing travellers since the early 1970s, and today tourism is the country's main source of income. However, not all locals directly benefit from the industry and many bear the burden of issues like waste disposal, climate change, poverty and unemployment. That's where we come in.
Philantourism Holiday Ideas
A few suggestions to get the holiday planning process started
Contact a specialist directly at + 44 (0) 20 3958 6120
Philantourism Holidays by country
Other Maldives collections
A few of the benefits of travelling with us
What our clients say about us
Maldives customer reviews (4 reviews)
4.5/5
We were lucky enough to meet Amy whilst in Belize and so were able to describe what we were looking for in a Maldives holiday. She matched it perfectly. Every aspect of the resort was exactly what we were looking for.
Maldives Guide
Practical advice, client testimonials and inspiration to help you prepare for your holiday
Contact one of our Maldives specialists