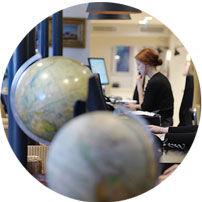 We've made it our mission to tackle the scourge of 'overtourism', where too many tourists descend on too few destinations, in the process risking what made these precious places so special in the first place. The good news is that we have the antidote: finding, and promoting, alternative destinations with just as much wow factor, but that fly under the radar. Introducing the Secret Series, a portfolio of hidden gems in some of the world's classic destinations, but which receive a fraction of the tourism traffic. While we understand the urge to break new ground and visit pristine corners of the globe in untouched countries,
the classic destinations are classics for a reason, so well worth deeper and wider exploration. After all, Italy is still Italy – same heritage, same food, same gorgeous scenery – a couple of hours away from the Amalfi Coast, but minus the high season gridlock. To access many of these Secret Series spots you often even fly to the same airport and just head off in the opposite direction from the holiday hot spots. When you arrive at your hidden haven, feeling ever so slightly smug, you may only find a few canny locals luxuriating in tourist-free virgin territory.
Secret Holiday Ideas
A few suggestions to get the holiday planning process started
The Secret Series by country
A few of the benefits of travelling with us
Review
What our clients say about us
This is the first time we went on a trip with Original Travel, a specialist advisor who listens to our expectations, and really the feeling of being pampered from departure to arrival. The concierge service is so efficient that we quickly become addicted.
Contact one of our specialists