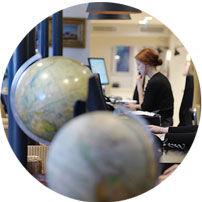 While we remain committed to absorbing 100% of the carbon from our clients' flights through our reforestation projects, many people are looking for ways to avoid flying altogether. The good news is that there are more and more flight-free travel options, meaning we can still travel – with all the benefits to both visitor and destination that entails – without flying. The renaissance in luxury train travel – with sleeper services resurgent across Europe – means it's increasingly easy to leave the UK and be in some far-flung corner of the continent within 24 hours, entirely flight-free. Then there are ferries and the Channel Tunnel,
which mean you can arrive on the Continent ready to road trip to your heart's content. Another focus for us is how to travel sustainably around large countries. Where once internal flights would have been the default, we will now suggest other means of exploring, from road trips and rail routes to river cruises that might take longer but which allow you to explore at a much more civilised slow travel pace.
Flight-Free Travel Holiday Ideas
A few suggestions to get the holiday planning process started
A few of the benefits of travelling with us
Review
What our clients say about us
This is the first time we went on a trip with Original Travel, a specialist advisor who listens to our expectations, and really the feeling of being pampered from departure to arrival. The concierge service is so efficient that we quickly become addicted.
Flight-Free Travel Guide
Practical advice, client testimonials and inspiration to help you prepare for your holiday
Contact one of our specialists