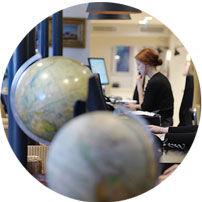 To tourists, Myanmar has long been an undiscovered corner of the world – but after recent political change, travellers are being welcomed through its doors. On the other side lies there are a wealth of wonders to discover: ancient temples, glittering pagodas and tranquil monasteries, all built with expert craftsmanship and steeped in a complex history. But Myanmar hot holidays are also packed with natural wonders. Take a trip to the coast and you'll come across the warm waters in the Bay of Bengal and the Andaman Sea fringed by fine white sand and coconut palms; beach lovers will be in paradise.
Hang around here long enough and you may be lucky enough to catch a sunset over the Bay of Bengal - those who have seen it claim that nothing else compares. Add in the kindness, easy smiles and warm welcomes from the locals, and Myanmar becomes an ideal spot for a happy, carefree getaway.
Myanmar Escape to the Sun Holiday Ideas
A few suggestions to get the holiday planning process started
Contact a specialist directly at + 44 (0) 20 3958 6120
Escape to the Sun by country
Other Myanmar collections
A few of the benefits of travelling with us
What our clients say about us
Myanmar customer reviews (3 reviews)
4.3/5
The whole trip exceeded expectations - and more! Particular highlights were the boat trip, hot air ballooning over Bagan, the elephant camp, birdwatching in Kalaw, and Amara Ocean Resort on the untouched beach. The guides were exceptional and the service was great - particularly at Governor's Residence.

The people were all lovely. It was truly amazing - thank you.
Myanmar Guide
Practical advice, client testimonials and inspiration to help you prepare for your holiday
Contact one of our Myanmar specialists