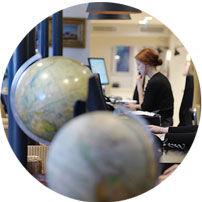 When it comes to responsible travel, Community Based Tourism (CBT) is a key component. The term refers to tourism experiences and accommodation managed and/or owned by local communities, and where the economic benefits are proven to remain in the community rather than ending up offshore. While it is by no means prescribed, many Community-Based Tourism experiences also have a sustainability angle or encourage visitors to learn about the local culture and way of life through authentic interactions. We believe that a growing focus on Community Based Tourism will only help to make travel what it should be:
a genuine force for good, and our aim is to greatly increase the number of these experiences and accommodation providers over time. We will inform clients when accommodation or experiences are owned by the community, so they can make informed decisions on where their money can have the most positive impact.
Community Based Tourism Holiday Ideas
A few suggestions to get the holiday planning process started
A few of the benefits of travelling with us
Review
What our clients say about us
This is the first time we went on a trip with Original Travel, a specialist advisor who listens to our expectations, and really the feeling of being pampered from departure to arrival. The concierge service is so efficient that we quickly become addicted.
Community Based Tourism Guide
Practical advice, client testimonials and inspiration to help you prepare for your holiday
Contact one of our specialists