Francesca
Myanmar specialist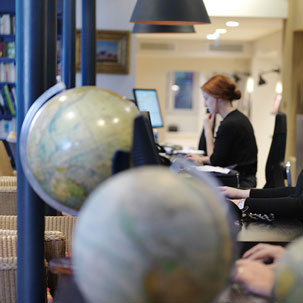 MYANMAR expert
What do you love most about Myanmar?
The locals are so genuine and pleased to see people exploring their country that they make you feel incredibly welcome. I love the scenery, from the temple-filled landscape in Bagan to the mountains reflecting on Inle Lake; it is jaw-droppingly beautiful and still feels authentic. There are so many places that I have been to which feel like tourism is a well-oiled machine and I like that Myanmar is still a little rough around the edges.
What is your favourite place in the country??
That is impossible to answer as I like all the different places when paired together, the versatility makes each one so special.
What's been your most memorable experience in Myanmar?
I had the opportunity to visit Wa Ale in the Mergui Archipelago when it first opened. We had a tricky speedboat journey as the weather was not ideal but we made it and soon as we arrived, we realised why the journey was worth it. It is an absolute paradise.
What would be your top recommendation for someone visiting Myanmar for the first time?
Absolute musts are Bagan and Inle Lake, but make sure to include visiting some villages around these areas.?It is so easy to get off the standard tourist trail by either hiking, cycling or driving and you will be rewarded with seeing a more authentic side of the country.
What's your insider tip?
Visit?a local tea shop; the perfect place to people watch.?Firstly, you get to watch the artistic process of the pouring of the tea (much like Vietnamese sweet tea) between pans, and then while sipping your tea, you can watch the locals going about their everyday lives.
Recommendations for Myanmar
What one local dish do you have to try?
In all honesty you probably don't go to Myanmar for the food, however, I am a massive fan of eating what the locals eat and love a Burmese curry. This tastes completely different at every restaurant or streetfood stall that you go to and can consist of pretty much anything! It is often paired with a tea leaf salad and various other side dishes; the former is very much a love or hate situation.?
What's one place in Myanmar that you could go back to again and again?
Inle Lake. I find the early morning market here fascinating and seeing all the people from different ethnic groups bringing their goods to buy and sell is really eye-opening.?The scenery is also dreamy.
What's the perfect souvenir to bring back from Myanmar?
I tend to go for more bizarre items as souvenirs, and one of my favourites was a handmade parasol with original cartoons on it that I bought from an art shop close to Bogyoke Market in Yangon.?A slightly more practical gift would be some lacquerware.
Is Myanmar somewhere to go to as a couple or with family?
Both, that said I think it is a wonderful place to go solo as the people are friendly and even the cities are a little gentler than some of the surrounding countries.