There aren't many places in Africa, or in the world for that matter, that are more remote than Namibia's Skelton Coast. It's one of few places on Earth that ooze extreme solitude and isolation, and where the mere mention of its name conjures up images of sweeping sandscapes, abandoned shipwrecks and eery whalebones. Long a graveyard for unwary ships and unfortunate creatures, the Skeleton Coast is without a doubt one of the world's most inhospitable areas. One of our Africa specialists, Paul Tyler, ventured out to explore its otherworldly wilderness, staying in some our favourite lodges and enjoying thrilling activities along the way. From sandboarding on the desert's towering dunes and venturing into abandoned diamond mines, to ticking creatures off your tick list and admiring the power of the Atlantic Ocean, the Skeleton Coast is overflowing with wild and wonderful things to do. Here are a few of Paul's suggestions when exploring this graveyard-like coastline…
What to see?
The area's hauntingly harsh climate makes human settlement almost impossible, leaving the otherworldly expanse a truly wild, desolate and vastly untouched region. Despite the harsh conditions, wildlife thrives here; the entire eco-system of the Skeleton Coast almost completely relies on a dense fog that rolls in off the treacherously cold Atlantic Ocean. Brown hyenas, springbok, gemsbok, lions and even desert-adapted elephants all survive here, often roaming miles to find food, with some turning to the ocean for survival.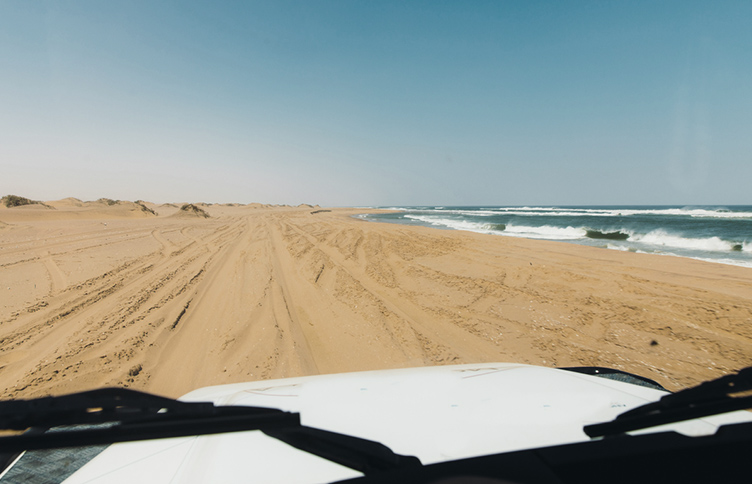 Where to stay?
When it comes to the very best places to stay along the wind-sculpted coastline, our top choice from which to truly experience the Skeleton Coast is the Shipwreck Lodge. If wandering through the desolate wilderness, you may think you've stumbled upon an abandoned ship-shaped mirage. The hotel's wooden frames are architecturally stunning, resembling miniature shipwrecks from the outside, but with toasty log burners and cosy décor filling the interiors. The large windows fill them light and allow guests to marvel at the otherworldly landscape that rolls in from outside.
The lodge offers a whole host of exciting excursions, allowing guests to truly immerse themselves in the sea of undulating dunes that surrounds them. From 4x4 adventures and walking tours to adrenaline-fuelled quad biking and sand boarding, the area around the hotel is brimming with things to do and see. Explore the Hoarusib River, keeping your eyes peeled for desert wildlife or head south down the coast towards Mowe Bay to see abandoned diamond mines and Cape fur seal colonies. The rolling, sun-scorched sand dunes provide a magnificent backdrop for activities for all the family, from sand boarding to dune buggy expeditions. Wind along dune walking trails between the lodge and the beach and keep an eye out for close encounters with smaller creatures and critters, including sand lizards and Namib Desert beetles that you can tick off your animal bucket list.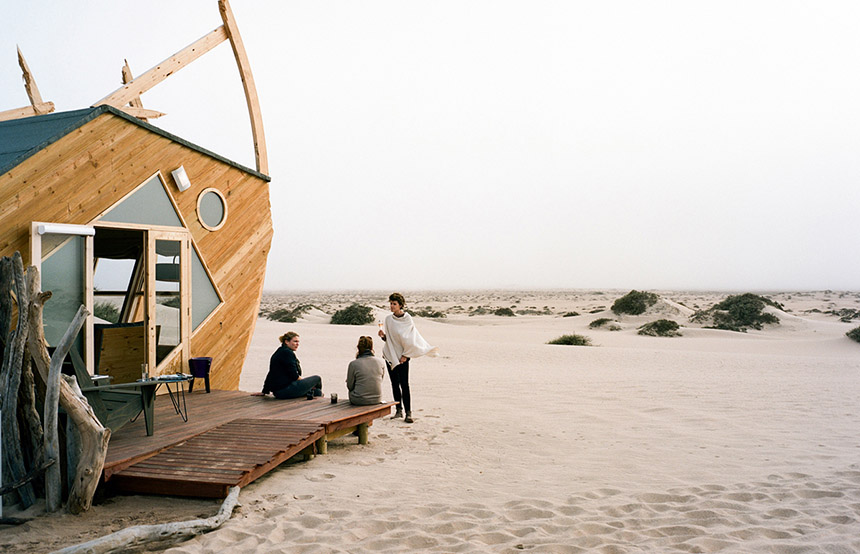 Image © Shipwreck Lodge
Written by Paul Tyler
Header Image © Shipwreck Lodge