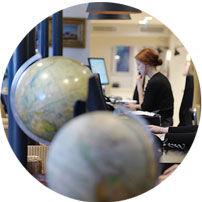 Children really are the ideal travellers: naturally curious, they're keen to meet others, swap ideas and come back with horizons broadened. Just the right age to creep through a rainforest canopy, drop in on a Chinese school, experience the thrills of safari, or sprawl on a beach. Go by plane, for a great adventure; by car, with GPS and car seats; or by train for total ease. Take a look at our travel ideas for child friendly holidays, complete with bespoke Sharky and George backpacks filled specially for every child. Memories are made of this!
Travelling with Young Children Ideas
A few suggestions to get the holiday planning process started
Travelling with Young Children by country
A few of the benefits of travelling with us
Review
What our clients say about us
This is the first time we went on a trip with Original Travel, a specialist advisor who listens to our expectations, and really the feeling of being pampered from departure to arrival. The concierge service is so efficient that we quickly become addicted.
Travelling with Young Children Guide
Practical advice, client testimonials and inspiration to help you prepare for your holiday
Contact one of our specialists