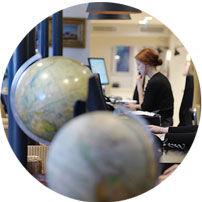 Solo travel is a joy. Fact. The sense of space, solitude and freedom received from (deliberately) leaving your watch at home to go on a day-long hike through Knuckles Mountain Range or spending all day sunbathing on Passikudah's sun dappled surf – just because you can – is simply unparalleled. Fortunately, Sri Lanka understands. Unlike its older, larger and more trodden Indian neighbour, Sri Lanka operates at a much slower pace. Much like its 7,500-strong herd of elephants, the focus of 'The Teardrop Isle' is to relax, wander without a care in the world and eat very well. Learn from a local how to make
ambul thiyal
(fish curry),
meander through mellow villages on the outskirts of Galle and marvel at the ancient charms of Naguleswaram Temple. Sri Lanka solo travel doesn't scrimp when it comes to culture either. Boasting eight UNESCO World Heritage sites, countless colonial forts, and hundreds of hilltop shrines, it provides a perfect couple of days of exploration (should you attempt to beat the country's intoxicating and quite frankly infective languor). Fear not though – its pearly beaches will be waiting with open arms on your return.
Other Sri Lanka collections
A few of the benefits of travelling with us
What our clients say about us
Sri Lanka customer reviews (3 reviews)
4.7/5
Miranda has been really wonderful throughout and was always ready to address any point of detail no matter how small. You've provided exceptional customer service which has been really appreciated by all of the family. So on behalf of each one of us thank you so very, very much.
Sri Lanka Guide
Practical advice, client testimonials and inspiration to help you prepare for your holiday
Contact one of our Sri Lanka specialists