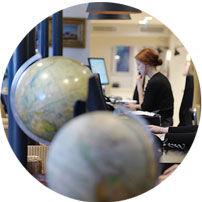 Northern Tanzania is a page pulled from paradise; where the shores of Dar es Salaam deliver foaming pale blue waters, frolicking dolphins and warm temperatures that make you want to plunge right in. This stunning coastline appears seemingly unchanged for centuries, with an endless stretch of sand lined with palms bent from the sweet sea breeze. The beauty of Bagamoyo comes from its rich Azure sky, but this is also a spot with a heart-breaking history as it served as a former slave trading port. The Swahili name Bagamoyo translates to 'throw down your heart', something people did before stepping foot on the ships.
A ripe blend of relaxing beach break and rich cultural history weaves together Tanzania hot holidays.
Tanzania Escape to the Sun Holiday Ideas
A few suggestions to get the holiday planning process started
Escape to the Sun by country
Other Tanzania collections
A few of the benefits of travelling with us
What our clients say about us
Tanzania customer reviews (9 reviews)
4.6/5
I wanted to take the time to say a HUGE thank you for organising our dream honeymoon right down to the smallest details. We had an amazing time across all three locations and loved the letters you had handwritten and sent to our accommodations to welcome us in each of them, we also received a welcome home card which was a lovely touch.

Our holiday was amazing and the Rayavadee was a particular highlight on the trip. We've never been anywhere quite as brilliant. We filled our days on the beach, by the pool, drinking cocktails, eating amazing food and visiting the beauties of Pang Nam Bay and the Phi Phi Islands. We also had a cooking class which was amazing as well, we're going to attempt a new Thai recipe every week. Once again, thank you so much for everything, we'll be sure to recommend you to anyone planning a holiday in the future. Fantastic service and job well done.
Tanzania Guide
Practical advice, client testimonials and inspiration to help you prepare for your holiday
Contact one of our Tanzania specialists