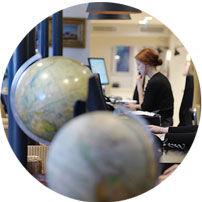 Every year, Spain comes alive to celebrate Christmas (or Navidad in Spanish). With carol concerts, midnight masses and excited children awaiting gifts from Papá Noel in every corner of the country, Christmas holidays in Spain are guaranteed to leave you feeling full of festive spirit. If Christmas lights are your thing, head to Madrid which becomes a glittering disco ball in the run up to the big day, with twinkling lights strung across the main streets and plazas. Or perhaps you fancy a spot of skiing or snowboarding? Make a beeline for Granada where you can reach Europe's southernmost ski resort in just 50 minutes from the city centre.
And if you want to stock up on souvenirs during your Christmas in Spain? Barcelona is the place, with bustling Christmas markets at every turn where you can purchase the city's rather bizarre Christmas mascot Caga Tió de Nadal: a hollow log with a smiling face, a red barretina (a Catalan hat) and a small blanket thrown over him.
Ideas
A few suggestions to get the holiday planning process started
Christmas Holidays by country
A few of the benefits of travelling with us
What our clients say about us
Spain customer reviews (4 reviews)
4.5/5
I must tell you that you made a believer out of me. I travel a lot for business globally and everything you organised was top of the line. I was so enthusiastic about your team that I gave your coordinates to my flight neighbour. It says it all! Thank you for a wonderful vacation to Spain.
Spain Guide
Practical advice, client testimonials and inspiration to help you prepare for your holiday
Contact one of our Spain specialists