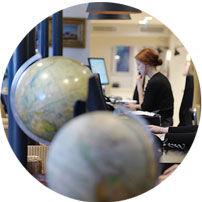 Rat and Mole were drifting lazily along the river in 'The Wind in the Willows' when Rat turned to Mole and came up with one of literature's most profound observations. 'There is nothing - absolutely nothing - half so much worth doing as simply messing about in boats. Simply messing... about in boats - or with boats. In or out of 'em, it doesn't matter. Nothing seems really to matter, that's the charm of it. Whether you get away, or whether you don't; whether you arrive at your destination or whether you reach somewhere else, or whether you never get anywhere at all, you're always busy, and you
never do anything in particular; and when you've done it there's always something else to do, and you can do it if you like, but you'd much better not.' We couldn't agree with Rat from Wind in The Willows more, which why we're extremely proud to introduce our boating holidays collection. Get ready to cast off...
Boating Holiday Ideas
A few suggestions to get the holiday planning process started
Boating Holidays by country
A few of the benefits of travelling with us
Review
What our clients say about us
This is the first time we went on a trip with Original Travel, a specialist advisor who listens to our expectations, and really the feeling of being pampered from departure to arrival. The concierge service is so efficient that we quickly become addicted.
Boating Holidays Guide
Practical advice, client testimonials and inspiration to help you prepare for your holiday
Contact one of our specialists