Zimbabwe in Style
Who: Honeymoons, Families and Solo Travellers
From £8,395pp
The Ultimate Luxury Zimbabwe Safari
This 12-day luxury Zimbabwe safari combines the best in camp comfort with wonderful wildlife watching on foot, by 4x4 and from the water. See elephants from your pool and observe nocturnal creatures that emerge after the sun goes down. Canoe on the Zambezi River and end your adventure at Victoria Falls.
Itinerary at a Glance:
Walk with bull elephants in Mana Pools
Enjoy 4x4 safaris in the heart of Hwange National Park
Float downstream on a romantic sunset cruise along the Zambezi River
Take a tour of the mighty Victoria Falls
Why Book with Original Travel?
Just a few of the extra touches that come as standard on an Original Travel holiday...
See More
All of the holidays we create are completely tailor-made to you
This sample itinerary is intended to give you a flavour of what we can do
Your ultimate luxury Zimbabwe safari itinerary begins with an overnight flight from London to Johannesburg in South Africa. The flight is 11-hours long, so despite your mounting excitement, try to get some sleep.
Days 2-5:

Magnificent Mana Pools National Park
After arriving in Johannesburg this morning, transfer to your onward flight to Harare. The flight takes an hour-and-a-half and when you reach the Zimbabwean capital, you'll transfer over to a light aircraft for the short flight to Mana Pools National Park.
Enjoy the bird's eye views of the incredible landscape as you fly, especially of the huge Zambezi River, which you'll see as you come in to land. Make sure you keep your eyes peeled for elephants roaming beneath you. You'll be seeing plenty of them over the next few days, but seeing them from the air is an amazing experience.
For the next three days, you will be staying in a luxury bush camp on the banks of one of the most famous rivers in the world and guided by expert guides. Spend your time exploring by canoe or on foot in search of rare wild dogs, lions, hippos and birds galore. Make sure to go on an evening game drive to see some of the nocturnal species in the area that emerge once the sun has gone down. After dark is also prime hunting time for the big cats.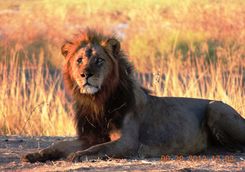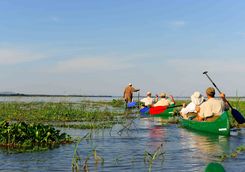 Days 6-8:

Elephant Watching in Hwange National Park
Departing after breakfast, the next stage of your ultimate luxury Zimbabwe safari itinerary is a flight into the heart of Hwange National Park, affectionately known as 'land of the giants' as it is home to the world's largest herds of elephant.
After settling into your deluxe camp, you'll have plenty of time to enjoy 4x4 safaris and spot elephants up close in their wonderful wild home. Here you'll be able to benefit from the local expert guides ' invaluable insider knowledge and years of experience as they teach you about the diverse wildlife in the park. Zimbabwe's guides are renowned as the best in the world. You'll soon find out why.
Back at the camp, the wildlife watching continues and you may be able to experience the incredibly special opportunity of swimming in the pool while an elephant drinks only yards away.
Days 9-11:

Mighty Victoria Falls
On the final leg of your luxury Zimbabwe safari, you will be flying to the mighty Victoria Falls.
You will have the chance to enjoy a tour of the falls, float down the Zambezi River on a sunset cruise and try your hand at fishing for tiger fish. Take the time to unwind in this watery wonderland with plenty of swimming and relaxing by the pool of your luxury hotel. A truly magical location to end your time in Zimbabwe.
Additional Activities
Helicopter flight over the falls.
Microlight flight.
Swim in the devil pool overlooking the 300ft drop off the falls.
Lunch or tea on Livingstone island.
Today is the final day of your ultimate luxury Zimbabwe safari itinerary and you'll be catching an afternoon flight home from Livingstone to Johannesburg. There, transfer across to your overnight flight back to London.
After all the exploring, the chances are that the moment your head hits the headrest you'll be out for the count (here's hoping, anyway). But if not, make sure to treat yourself to a good movie and glass of wine to end your adventure with the same style enjoyed throughout your trip.
You will arrive back in London early this morning.
All of the holidays we create are completely tailor-made to you
This sample itinerary is intended to give you a flavour of what we can do
A Rough Idea of Price
While all of our holidays are completely tailor-made and prices will vary based on things like time of year and level of accommodation, we want to give you as good an idea of how much this itinerary will cost. The below prices are based on two people sharing.
This Itinerary
If you would like to book the itinerary mentioned above, with economy flights, during mid-season and staying in our preferred room category at our preferred hotels.
Bells & Whistles
If you are looking for something extra special, we can discuss with you upgrading your accommodation, flights or activities.
Matt is our expert for this itinerary and, as a seasoned traveller, has the inside track on the most memorable adventures.