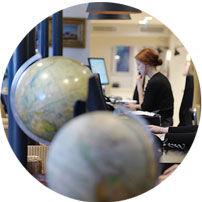 Mana Pools National Park, in the north of Zimbabwe, stretches from Lake Kariba to the border of Mozambique in the east, in the heart of the Zambezi River Valley. A World Heritage Site, Mana Pools is a perennial favourite with visitors and it is not difficult to see why with its rich variety of ecosystems, game and activities and the Zambezi River running its border for the length of the park. The name 'Mana' means four in the local Shona language, and refers to the four large pools that lie inland from the river. They are ox bow lakes that remain from when the Zambezi changed its course and are
host to a great variety of wildlife; populations of hippos and crocodiles and large herds of elephant that appear from the thickly vegetated areas in the south to drink. In the dry season Mana Pools holidays are even more special because the game is particularly concentrated and congregates along the river and around these pools.
Zimbabwe Regions
Discover more 100% tailor-made holiday ideas
A few of the benefits of travelling with us
What our clients say about us
Zimbabwe customer reviews (1 reviews)
4.5/5
Efficient and professional support at every stage from planning the trip to our return. Our consultant knew Zimbabwe very well, and his advice was spot on. The planning and execution of the trip once we were there exceeded expectations. Basically, it was perfect! I highly recommend Original Travel for organising a tailor-made holiday to Zimbabwe.
Contact one of our Zimbabwe specialists