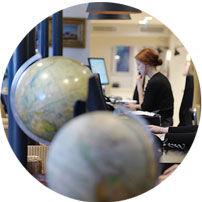 The name alone conjures up visions of exploration and adventure. David Livingstone "discovered" the Falls in 1855 and named them after Queen Victoria but its other name, Mosi oa Tunya (the smoke that thunders), is perhaps more evocative. Almost exactly halfway along the Zambezi River's 1,700 mile journey to the Indian Ocean the spray from the huge sheet of water as it plunges over 350ft into the gorge below can be seen from 30 miles away. Said to be the largest waterfall in the world, The Victoria Falls are considered to be one of the Seven Natural Wonders of the World and the National Park is a UNESCO World Heritage site.
The area is the home of a huge variety of adrenaline activities from heli flips (Flight of Angels) over the Falls, white water rafting, microlighting and boogie boarding but if you want slightly less excitement there are rather more gentle river cruises and game viewing, cultural visits and riding. The iconic Victoria Falls Hotel, otherwise known as the 'grand old lady of the Falls', is one of the places to stay in Southern Africa and the perfect place to contemplate the Falls, which are visible from the hotel and only a ten minute walk away along their private pathway. A Victoria Falls holiday is the perfect starting point for a Southern African safari; from here you can begin a trip through Zimbabwe incorporating Hwange and Mana Pools or hop across the border into Zambia or Botswana or continue your journey in South Africa or Mozambique.
Victoria Falls Holiday Ideas
A few suggestions to get the holiday planning process started
Zimbabwe Regions
Discover more 100% tailor-made holiday ideas
A few of the benefits of travelling with us
What our clients say about us
Zimbabwe customer reviews (1 reviews)
4.5/5
Efficient and professional support at every stage from planning the trip to our return. Our consultant knew Zimbabwe very well, and his advice was spot on. The planning and execution of the trip once we were there exceeded expectations. Basically, it was perfect! I highly recommend Original Travel for organising a tailor-made holiday to Zimbabwe.
Contact one of our Zimbabwe specialists