Itinerary Highlights
Paddle the waterways of the Okavango in a mokoro dug-out canoe
Follow the animal action across the savannahs in your safari-adapted 4x4
Take to the river in the Selinda Reserve
Take a walk with your knowledgeable guide for an up-close encounter with the wildlife
Marvel at the magnitude and ferocity of the mighty Victoria Falls
Contact one of our Botswana specialists + 44 (0) 20 3958 6120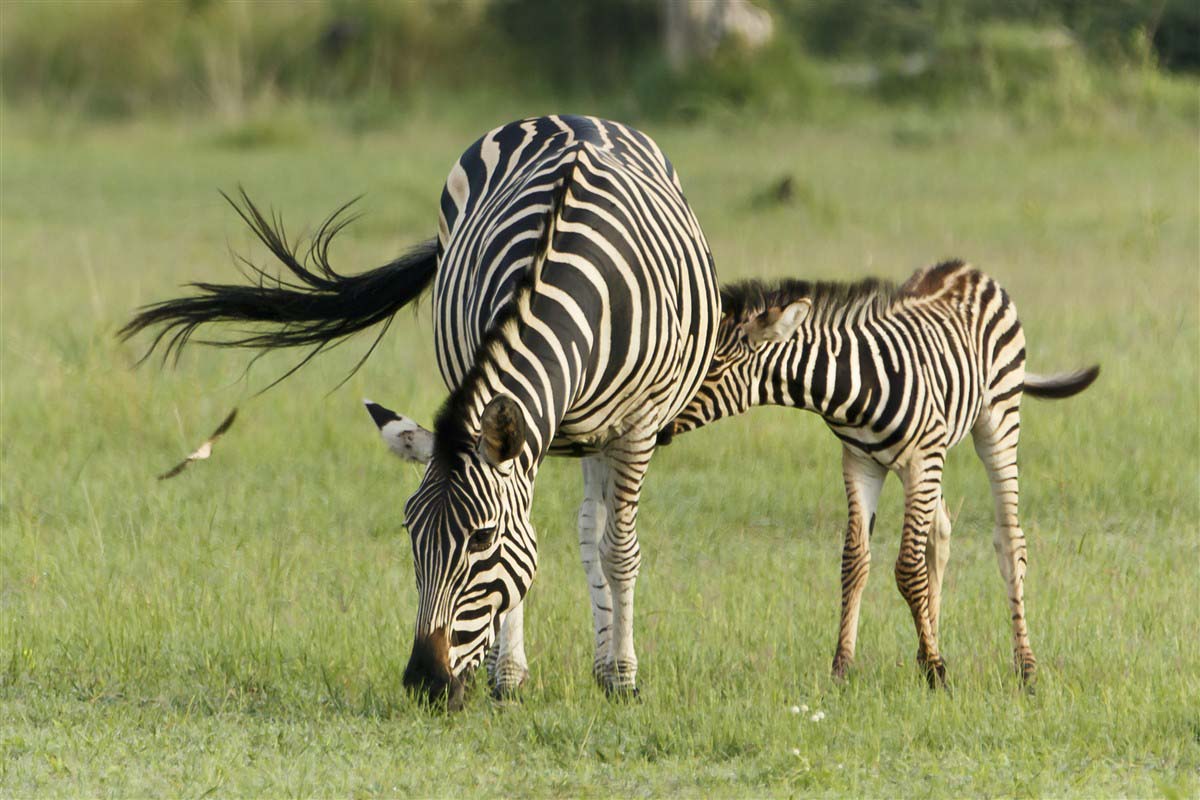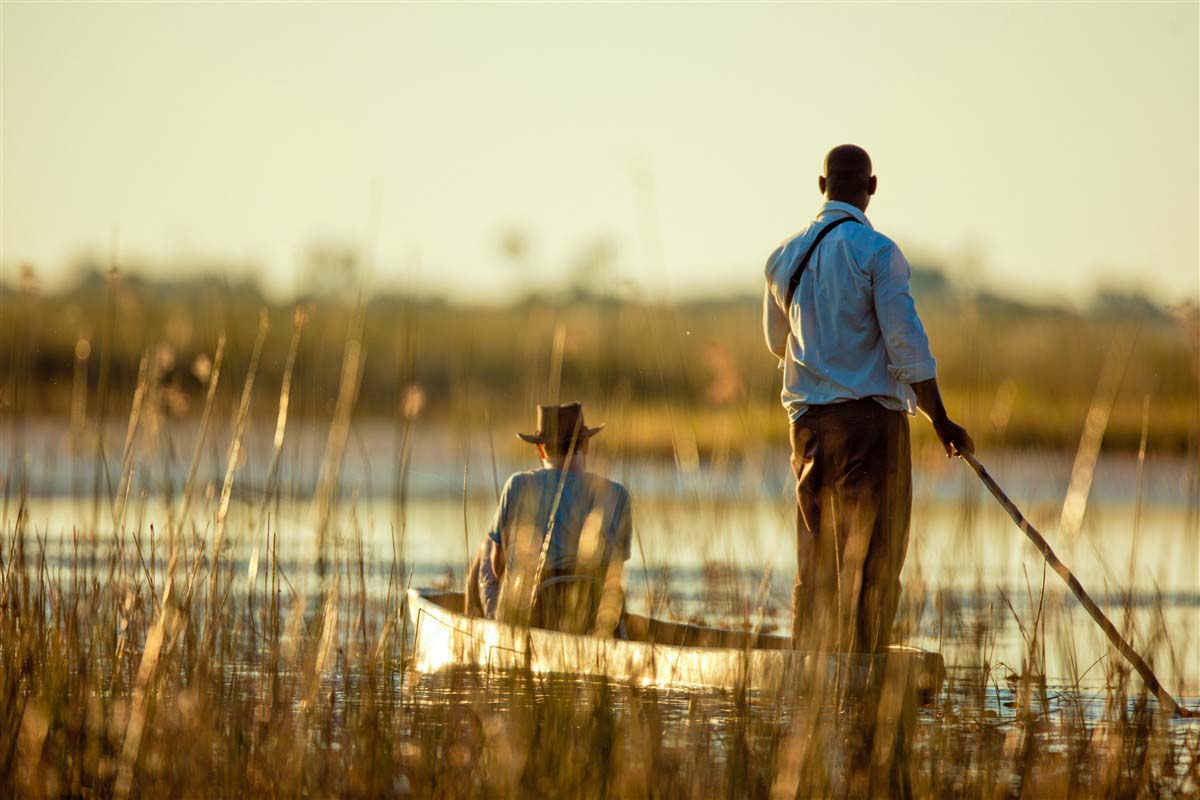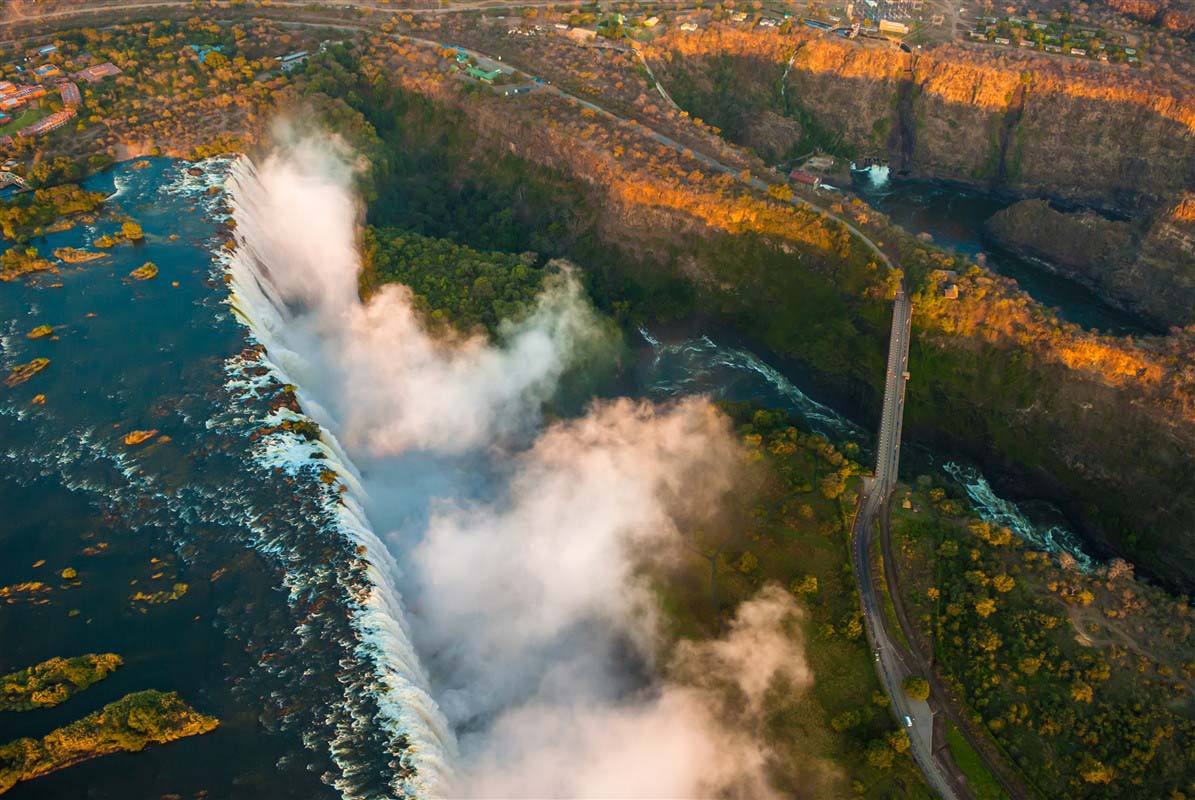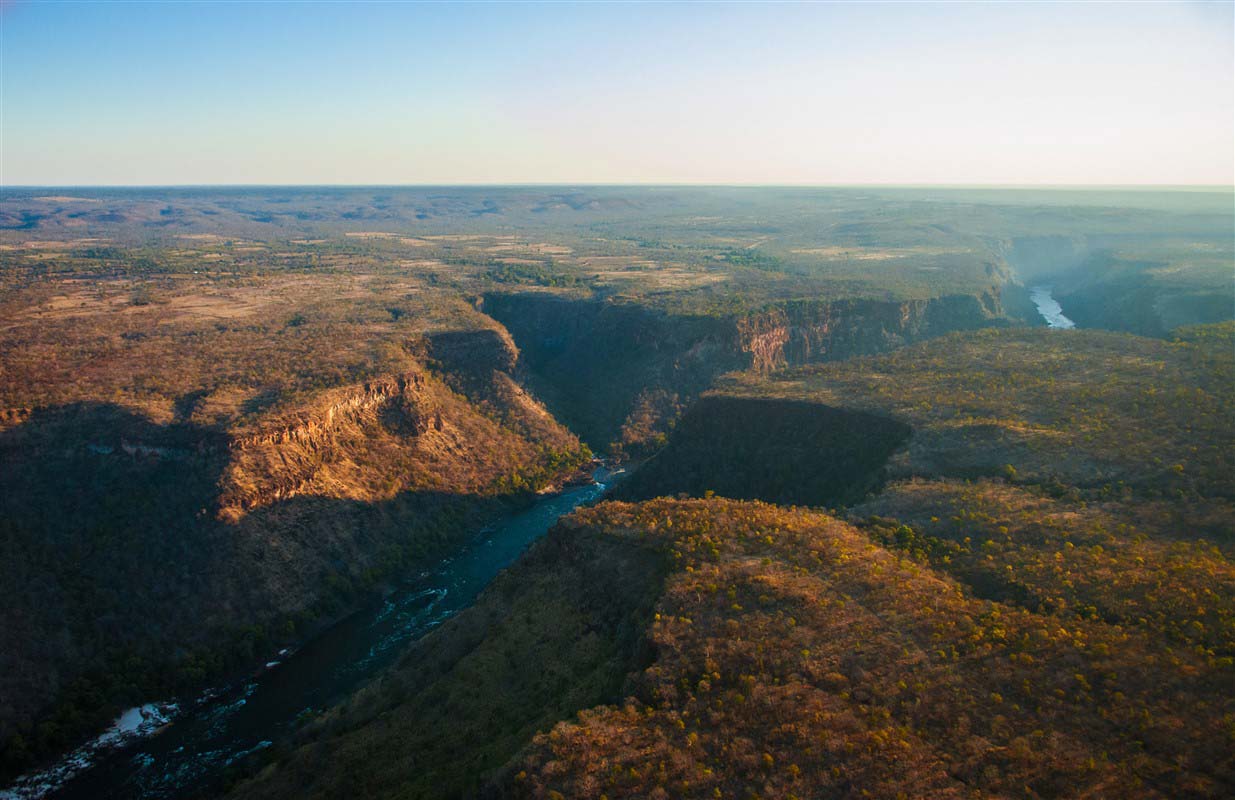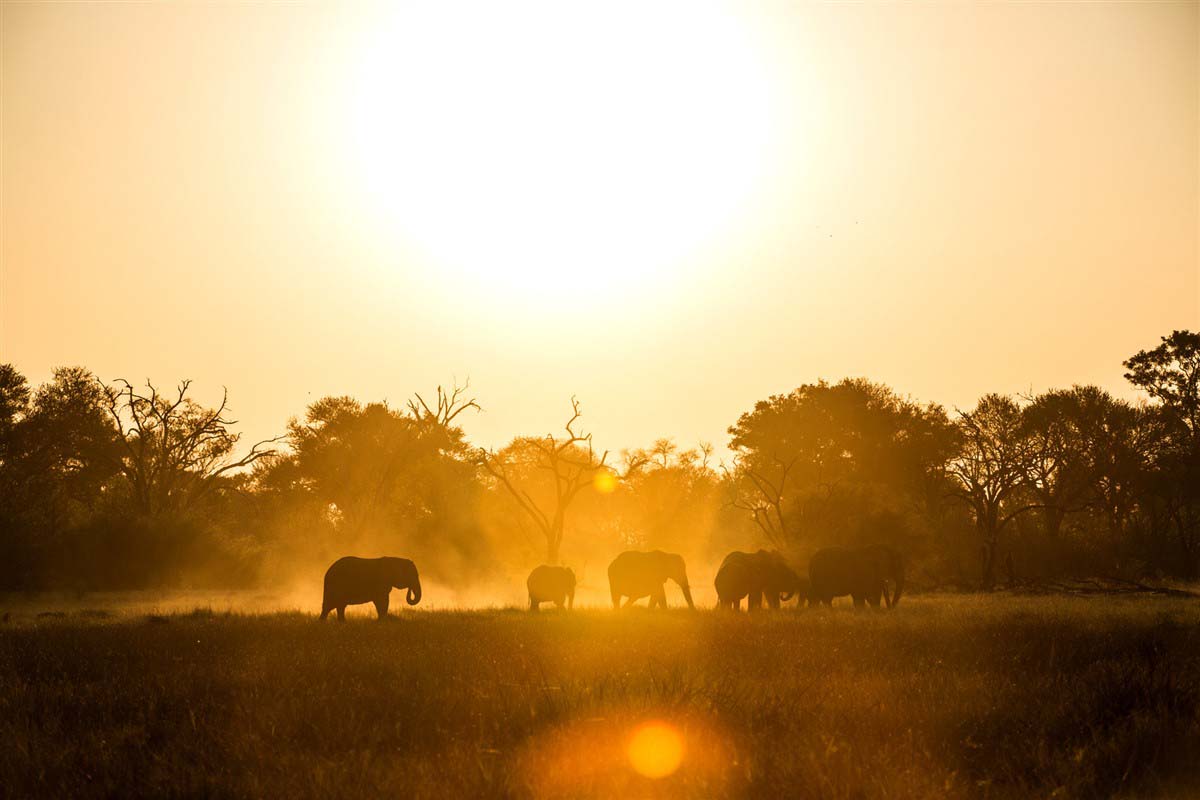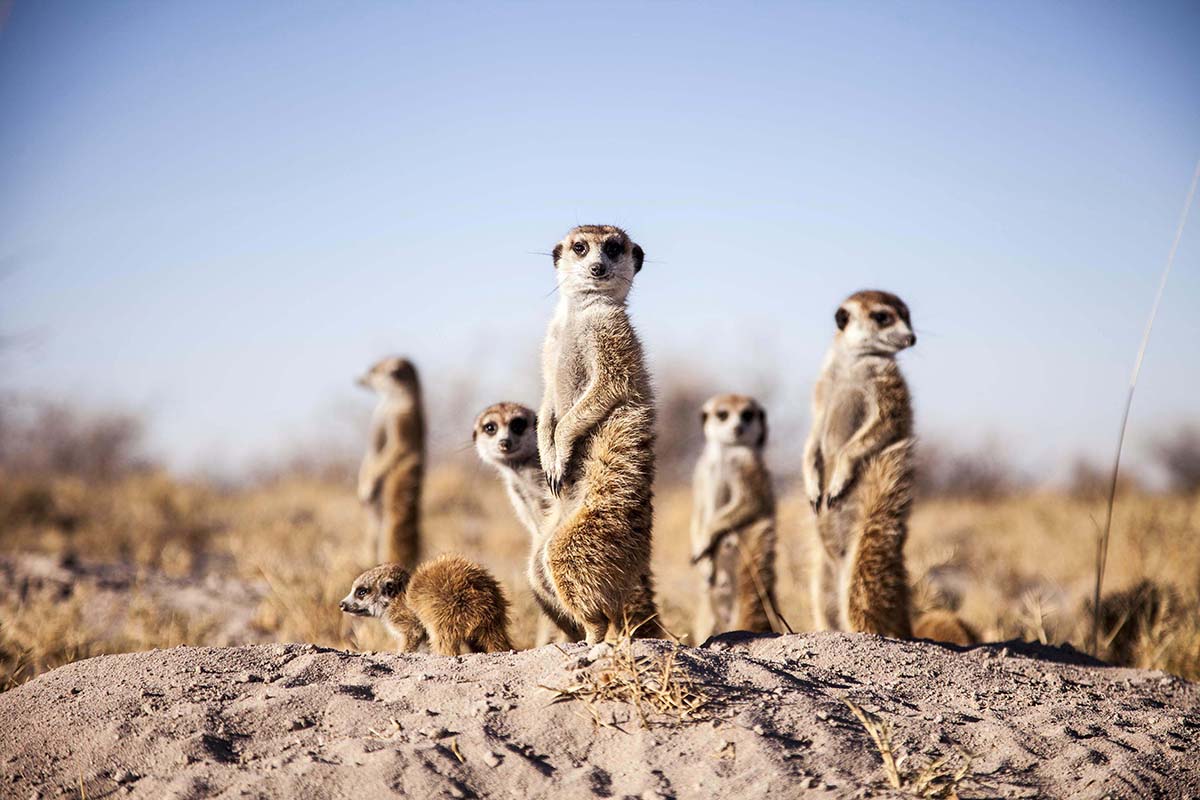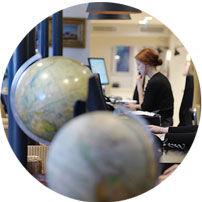 This incredible 12-day adventure encompasses Botswana's incomparable Okavango Delta, with its magical waterways teeming with wildlife; the remote and exclusive Linyanti region - the place for elephant and big cat viewing - and the magnificent Victoria Falls over the border in Zimbabwe as a fitting finale.
Route
Everything is 100% tailored to you
DAY 1
Fly to Johannesburg
This evening board your non-stop overnight flight from London to Johannesburg, a journey time of around 11 hours. With little in the way of jet lag to worry about (there's very little time difference) you can sit back and relax in anticipation of the fabulous adventures to come.
DAY 2
Onwards to the Okavango Delta
After landing in Johannesburg this morning you'll transfer onto an onward flight of around an hour-and-a-half to Maun, gateway to Botswana's incredible wildlife reserves. Here's where it starts to get really exciting as you board a light aircraft to fly over the Okavango Delta to your base at your private reserve in the north. You'll be greeted on arrival and driven by 4x4 across the open plains to your first wonderful camp - stylish, cosy and warmly hospitable.
After a welcome drink on arrival, take some time to absorb the incredible surroundings, with the camp set in the trees with wonderful views across the waterways, softly lit by the setting sun. With just a handful of luxury tents gathered around a central lounge and dining area, you'll soon feel very much at home.
If you're in time and not too tired from your travels, you may even be able to set off on your first game drive, venturing out into the bush with your expert guide to spot the host of wildlife so prevalent in the delta area. Blue wildebeests, giraffes, hyenas and warthogs are just some of the locals you might encounter.
After a well-earned sundowner drink, return to camp and savour a sumptuous evening meal with your fellow guests.
DAY 3
Relaxing in Duba Explorers Camp
There's no time like dawn to catch the very best sightings of the animals - you snooze, you lose! So hop in the safari-adapted 4x4 and the cool morning air will soon have your senses sharp and ready. Listen to the cacophony of bush sounds as creatures great and small wake up to the new day. Zebras, buffalos, giraffes, elephants and lechwes are on the move, not to mention the dozens of species of birds determined to outdo each other on the vocals.
Buzzing after your first proper glimpse of the wild, you'll be driven back to camp for a very welcome breakfast.
During the day, you can relax in your spacious luxury tent or on your private veranda, or perhaps take advantage of the guided walking safaris on offer to get up close and personal with a few of the smaller animals around. other activities on offer include catch-and-release fishing expeditions; speedboat rides; guided walks, and a Young Explorers bushcraft skills and conservation training course for children.
Late in the afternoon, you'll return to the safari vehicle, looking out for the resident hippos in the deeper waterways, their heads popping up at random. Lions, cheetahs and leopards are all regularly spotted going about their business in the reserve.
Return to camp for supper and a chat around the firepit under a star-laden sky.
DAY 4
On Land and Water in the Okavango Delta
Now you've got the hang of camp life, you'll be racing to the safari 4x4 for your morning game drive. Your guide's expertise and extensive knowledge of the reserve will ensure you get to see a wide range of habitats, each with its own contingent of wildlife.
You may be lucky enough to see lion cubs taking their first wobbly steps or stalk-and-pounce tactics at work as one of the area's big cats goes in for the kill.
Later in the day, you may choose to take to the water on either a mokoro (dug-out canoe) or motorboat, depending on how full the waterways are when you're visiting. Messing about on the river takes on a whole new meaning when you're on the lookout for crocs and hippos. Catch-and-release fishing is often available too, depending on the season.
Enjoy a last evening game drive at Duba Explorers Camp, followed by a farewell supper under the stars.
DAY 5
Onwards to the Selinda Reserve, Linyanti
This morning you'll be transferred back to the Vumbura landing strip ready for your onward flight to Selinda, one of the exclusive reserves in the Linyanti. With only a handful of guests allowed to stay in the 310,000 acre reserve on any one night, it's little wonder that it's one of Botswana's most prolific wildlife hubs.
On arrival, you'll be greeted by your driver/guide and transferred to your new camp along the aptly-named Selinda Spillway, an east-west waterway that meanders between the Okavango Delta in the south and the Linyanti channels in the east.
Taking in the beautiful surroundings, with your luxury tent discreetly set in the trees beside the river, you may well spot egrets, bee-eaters, hippos and elephants from your very doorstep. Animals flock to this prized waterway in huge numbers, especially during the dry season.
After settling in, you'll be eager to explore your new terrain and your first game drive here will reveal a huge assortment of species, including large herds of buffalos, elephants and antelopes. The freedom to follow the animals across the vast plains and observe them up close is possible only because of the strict limitations on visitor numbers.
After a celebratory sundowner, head back to camp where a delicious bush supper will be waiting for you.
DAY 6
Canoeing in the Selinda Reserve
Rising early to a melodious African dawn chorus, this morning may well be your chance to paddle along the glorious spillway in a two-person canoe (conditions permitting), one of the great joys of the Selinda Reserve. Floating along unobtrusively, you'll witness the morning rituals of a host of animals, anything from crocodiles and hippos to frogs and lions. It's a magical time of day.
At the end of your canoe expedition, you may be able to walk back with your guide, enjoying an altogether different view of the waterway and adjacent plains, or ride back in the 4x4 for a well-earned drink.
If you're still keen to see more after a relaxing afternoon at camp, there's always the option of another game drive, guided walking safari or a trip by motorboat if the water levels permit.
In the evening, savour another delicious supper before gathering round the fire for a nightcap to reflect on your day.
DAY 7
Take a Hike in the Selinda Reserve
Today is your last full day at Selinda and perhaps the best time to arrange an extended guided walk with the camp's expert licensed guide, who'll keep you safe as well as sharing his passion and knowledge. You'll want to avoid the intense heat of the day, when even the animals are pretty inactive, so choose the morning or late afternoon.
Grab your hat, camera and binoculars and discover a whole new world as you look out for tracks, vegetation changes and numerous smaller animals and insects that are often harder to spot from the confines of a vehicle. Keep an eye out for families of warthogs scuttling around, herds of grazing sables antelopes and elegant giraffes sauntering across the savannah. African wild dogs make their dens here while the concentration of elephants is immense.
After an exhilarating expedition, you'll have some fabulous memories and great photos to treasure - and you'll certainly be ready for an excellent supper, expertly prepared by your enthusiastic camp chef.
DAY 8
Selinda Reserve to Zambezi National Park
Today it's time to move on to your final stop, with a transfer back to the airstrip and a flight north east to Victoria Falls Airport in neighbouring Zimbabwe. Here, you'll be met and transferred by vehicle to your enchanting private camp beside the mighty Zambezi River in the Zambezi National Park. Comprising 25 miles of river frontage and 140,000 acres of varying habitats, it's an incredibly wildlife-rich region and a fabulous way to round off your African adventure.
As you settle into your new surroundings, the soothing flow of the river is mesmerising, the scene changing dramatically with the seasons, each with its own powerful draw for wildlife fanatics.
From camp, you'll venture out by safari vehicle to admire the impressive numbers of elands, zebras, antelopes and giraffes. The adorable African elephants and charismatic hippos are of course the riverine highlights and you'd be hard pressed not to spot them on any given day's viewing. As with all our chosen camps, supper is one of the day's many highlights, freshly prepared for you by the camp's charming team.
DAY 9
Zambezi National Park
No visit to the Zambezi is complete without at least one visit to the continent's most famous landmark: the magnificent Victoria Falls. After a fortifying breakfast, you'll be driven into nearby Victoria Falls Town, the roar of the waterfalls increasing in volume as you approach. You'll have the whole day to explore the falls from here in your own time - walking in the footsteps of David Livingstone, the first European to discover the existence of the incredible 'Mosi-o-Tunya' or 'smoke that thunders' back in 1855.
Be prepared to get wet! The spray from the stunning curtains of water crashing over the edge is ubiquitous, but worth every droplet. You can walk along the pathways independently or join one of many walking tours available to benefit from the knowledge of local guides. For the ultimate view from above, why not take a helicopter tour, otherwise known as the 'flight of angels'. Other action-packed activities on offer include bungy jumping, bridge swinging and a zipline adventure.
Travelling back to camp for the evening after visiting one of the seven wonders of the natural world could potentially be seen as an anti-climax, but the comparative tranquillity of the bush and the intimacy of your small, uncrowded riverside retreat is a delightful contrast. Reflect on the falls' magnificence over a delicious meal under the stars and perhaps a raise a toast to Dr Livingstone.
DAY 10
Zambezi National Park
Today is your last full day and you'll want to make the most of the opportunities to get out and about among your favourite animals once again. With a dawn start, head out for a game drive with your guide, looking out for the huge variety of bird species around here as well as impalas, waterbucks and kudus.
After breakfast, relax in camp, take a refreshing dip in the plunge pool and savour that gorgeous view over the river. We can also arrange canoeing down the Zambezi (seasonal conditions permitting), fishing trips and more visits to Victoria Falls.
Late in the afternoon is a perfect time to board the lodge's motorboat and explore the river banks, often teeming with animals bathing, drinking or just having a little fun in the cooling waters of the Zambezi. As the sun begins to fall, the customary sundowner drinks and nibbles are laid out for your delectation - there's no finer way to round off what's been an amazing African journey.
After supper back at camp, enjoy a restful night in advance of your journey home tomorrow.
After breakfast and a chance to bid farewell to your thoughtful hosts, you'll be driven to Victoria Falls Airport in time for your flight to Johannesburg, a journey of around an hour-and-a-half. Your bags will be checked straight through and you'll change onto a direct flight from here to London, flying overnight.
Your overnight flight will arrive back into London early in the morning.
A Rough Idea of Price
Dependent on season, accommodation and activities
The estimated cost for this trip is £5,965 to £7,155 per person. The final cost of the trip depends on the way we tailor it especially for you. The final cost varies according to several factors, which include the level of service, length of trip and advance booking time. The exact price will be provided on your personalised quote. The average price for this trip is £5,965 per person.
A few of the benefits of travelling with us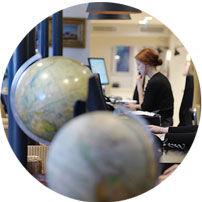 Get in touch
Our experts have the inside track on the destinations they sell and will tailor-make a holiday to your unique requirements.
Contact one of our Botswana specialists