Today is all about getting to grips with the history of Gozo. Beginning with it's pre-historic origins, you will visit the Ggantija Temples - which are both gigantic and five hundred years older than our own megalithic monuments at Stonehenge.
Your guide will explain how early Gozitans (their collective noun) believed the temples were built by giants, and it isn't hard to see why with the colossal stones weighing up to 50 tons! Form here, you will visit spots across the island which have played a role in its history, before finishing at the Cittadella Cathedral. Another baroque beauty, it was also built after the original was damaged during the 1693 earthquake, and your guide will help you explore its history - from Roman temple (to Juno, wife of Jupiter) to modern day cathedral.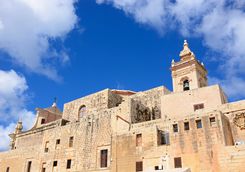 Additional Activities
Boat Hire. We can arrange for you to charter a boat to explore the coastline of Gozo or drop anchor by the beautiful Blue Lagoon on the even smaller island of Comino to go swimming or snorkelling.