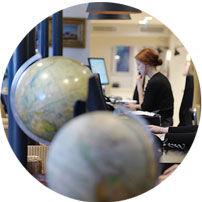 Malta's tiny capital city may be little, but it packs quite the cultural punch. First, the history. Valletta's perfect harbour has played host to sea-faring civilisations from the Phoenicians onwards, with each in turn leaving behind a coating of culture, cuisine and construction work. This has lead UNESCO, not an organisation prone to overstatement, to describe the city as 'one of the most concentrated historic areas in the world'.
Above all, Valletta's main cultural association is with the Order of St John of Jerusalem - better known as the Knights of Malta - who, over the course of the 16th and 17th centuries, created the walls and the grid-based city within, almost all of which exists today. You don't have to be a history buff to marvel at the extraordinarily well preserved monuments - 320 in total - that make the city a near perfect example of late Renaissance city planning. The highlights include the Co-Cathedral of St John (complete with Caravaggio's largest painting) and the Palace of the Grand Master, as well as later 18th century additions such as lovely Library. That so much of the original city survives is all the more remarkable given the monumental pounding Malta received at the hands of German and Italian bombers during WWII. Away from the cultural immersion, the city has also developed a very decent nightlife of late, centred around the St Julian area outside the city walls, and a clutch of cracking new restaurants and bars within the walls themselves. Best of all, Malta's diminutive size means that the entire island is within easy striking distance of the city, including day trips to Mdina or neighbouring Gozo and Comino; renting a brightly coloured luzzu fishing boat for the day or taking the new ferry from Valetta across to the Three Cities of charming and traditional Birgu, Cospicua and Senglea.
A few of the benefits of travelling with us
Review
What our clients say about us
This is the first time we went on a trip with Original Travel, a specialist advisor who listens to our expectations, and really the feeling of being pampered from departure to arrival. The concierge service is so efficient that we quickly become addicted.
Malta Guide
Practical advice, client testimonials and inspiration to help you prepare for your holiday
Contact one of our Malta specialists