Family Holiday to Romania
Who: Families
From £3,550pp
Creepy Castles, Vampires and Bears: A Family Holiday to Romania
On this seven-day family Romania holiday you and the children can experience a way of life unchanged in centuries in beautiful Transylvania. Learn traditional skills, see bears in the wild, visit spooky castles and walk and ride in stunning surroundings.
Itinerary at a Glance:
Spend a fun evening in Bucharest
Stay in charming traditional accommodation
Learn traditional skills in Transylvania
Spot bears in the wild from a hide
Go walking and riding in the beautiful Transylvanian countryside
Visit spooky castles
Learn about the 'real' Dracula
Why Book with Original Travel?
Just a few of the extra touches that come as standard on an Original Travel holiday...
See More
All of the holidays we create are completely tailor-made to you
This sample itinerary is intended to give you a flavour of what we can do
Day 1:

Arrive in Bucharest
Leave London this morning on the three-and-a-half-hour flight to the Romanian capital Bucharest, the first stop on your family Romania holiday. On arrival you will be met and transferred to your city centre hotel.
Spend the rest of the afternoon and evening exploring the capital with a guide who can tailor the experience to the ages and interests of the children. They should definitely appreciate seeing the Palace of the Parliament, the third biggest building in the world, but other fun places to visit are the Museum of the Senses (cue mirror rooms etc) and the Village Museum, which showcases different houses from across Romania, in a taste of things to come in Transylvania.
Enjoy a fun supper in the Old Town in a family-friendly restaurant we recommend before a well-earned night's sleep in your city centre hotel.
Day 2:

To Transylvania to Spot Bears and Stargaze
After breakfast this morning you will be met at the hotel for the drive to the heart of Transylvania, which takes between three and four hours, but with stops en route.
First of these is Peles Castle, the one-time summer residence of the Romanian royal family. This fairytale castle is near the town of Sinaia in the beautiful Carpathian Mountains. After looking around Peles, stop for lunch at another castle before an hour's drive on to your home for the next two nights.

However, you're not stopping yet. Drop your bags off at your accommodation and then head back out for what will hopefully be one of the highlights of your Romania family holiday: a bear hunt. Romania is home to some 45% of all the wild brown bears in Europe, so there's a good chance of seeing them in their natural habitat from a nearby hide. Fingers crossed.

Then it's back to the lodge for a traditional Transylvanian supper and after that you will be met by a local astronomer for a walk to a clearing from where you can see (weather dependent) beautiful constellations with no light pollution. Your guide will show you different constellations and explain the basics of navigating by the stars.
Next stop: Bran, which is famed as the one-time home of Vlad the Impaler and the inspiration for Bram Stoker's Dracula. After exploring this exceptionally well-maintained castle, head on to your accommodation for the night, a charming inn in the hills above Bran.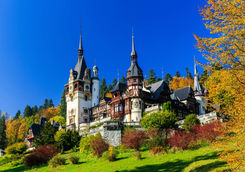 Day 3:

Walking in the Piatra Craiului National Park & Visit Dracula's Castle
After breakfast this morning you and the family can really stretch your legs on this family Romania holiday. The nearby (half-an-hour or so) Piatra Craiului National Park is a limestone massif surrounded by hiking trails and thick woodland that is still home to bears, wolves and lynx. You and your guide can choose from several circular walks through this stunning landscape, dependent on how active the children are feeling.
After exploring, it's back to the lodge for lunch and a rest before another highlight on this family holiday to Romania - a visit to Bran - the creepy castle once owned by Vlad the Impaler, famously the inspiration for Bram Stoker's Dracula. For added spookiness, the tour takes place after hours and as the sun sets, and your guide will show you around the various rooms (including a dastardly dungeon) while explaining the history of the real Vlad the Impaler, and the story behind the creation of Dracula.

Tour finished, return to the lodge, and hope that the children manage to go to sleep okay tonight!
Day 4:

Explore Saxon Transylvania
After a relaxed breakfast you will be driving two hours even further into the heart of Transylvania, to a charming village called Viscri which was, until recently, home to the German-speaking descendants of Saxon families who were encouraged to migrate to Transylvania during medieval times. The then Kings of Hungary needed them to defend the country from invaders from the east such as the Tatars and Mongols.
The Saxons built a string of defensive villages across Transylvania (then part of Hungary) with fortress churches at their centre. The church towers proved useful watch towers, and the church at Viscri (and the wider village) is a classic example of these defensive villages, which the children are sure to love exploring.
Once you're done immersing yourselves in this historic village, enjoy lunch in Viscri prepared by a local lady who will show the children some of the traditional preparations and techniques.

This afternoon the family will get a very special chance to try their hands at a number of traditional activities that are still practiced every day in Transylvania. You can help with collecting plants that are known for their medicinal properties from the meadows; go on a horse and cart ride with the local shepherd, learning about this ancient profession and helping him milk and sheer the flock, and tasting the excellent local sheep's cheese; or meet the local blacksmith, or ceramicist and wood carver. It will all open the children's eyes to wonderful ancient skills they won't see practised anywhere else.

Next it's on towards the lovely UNESCO-listed town of Sighisoara, but en route the children can meet another local hero - a beekeeper who provides the honey for Prince Charles' house nearby. Learn how to the hives work, and how to harvest honey, and then sample the delicious final product.

There's still time for that visit to Sighisoara and to wander around the famous medieval citadel, which is still inhabited today. The children will get a feel for what life would have been like in the Middle Ages, and hear more stories about Vlad the Impaler, who was born here. Be sure to stop to buy some souvenirs and enjoy a refreshing local lemonade.

Finally, it's a short transfer to your lovely lodge accommodation for the next two nights. Enjoy supper and a well-earned sleep.
Additional Activities
We can also arrange visits to a local beekeeper, or producer of the finest local goats' cheese - both classic Reconnect skills.
The charming city of Sighisoara, where Vlad the Impaler was born, is an hour or so away from Viscri, so you could pay a quick visit, or even stay the night there.
Day 5:

Slow Travel in Transylvania
After breakfast at the lodge this morning is the perfect opportunity to go riding as a family.
The lodge has a selection of well-trained horses and ponies, and Transylvania is the perfect place to ride, regardless of the prior experience (or otherwise) of parents or children because there are so few roads and no fences, so you can head out along lovely country paths at your own pace and with an expert guide. The guide will also have a picnic lunch so you can stop and eat in a pretty spot en route.

This afternoon you can visit another couple of fortified churches and Saxon villages (Malancrav and Biertan) and learn about yet more rapidly disappearing skills, such as carpet making and textile creation, before returning to the lodge for a traditional dinner and bed.
After breakfast at the lodge this morning you will be driven to the city of Sibiu, which is an-hour-and-a-half away.
Check in to your last hotel on this family Romania holiday and then have lunch in a fun Italian restaurant in a 14th century building in the old town. After lunch you will be met by your guide for a walking tour of the city, exploring the medieval fortifications where the children can pretend to be the city's defenders or attackers, and climbing the clock tower to get another perspective on the city below.

Enjoy one last dinner in Sibiu to celebrate a fun and educational trip.
After breakfast you and the children can decide on one of two activities to do on the last day of your family holiday to Romania.
If you have any budding petrolheads among your children, they might want to go on a road trip along the Transfagarasan, one of the highest mountain roads in Europe, and once described by Top Gear as the 'best drive in the world'. It's a couple of hours' drive away from Sibiu, so quite a long time in the car, but great fun when you're there, negotiating the switchback road up and over the pass.
Alternatively, you can take it a bit easier in and around Sibiu, wandering around the old town looking for souvenirs, and visiting the nearby Astra Museum, a lovely open-air museum where there is a collection of old buildings - from barns to inns to mill houses - that have been painstakingly saved and relocated here. It's a whistlestop tour of the lovely architectural styles of Romania.
Whichever trip you take, return to Sibiu to collect your bags in time for the transfer back to the nearby airport for the late afternoon flight back to London. You will arrive back in London in the evening.
All of the holidays we create are completely tailor-made to you
This sample itinerary is intended to give you a flavour of what we can do
A Rough Idea of Price
While all of our holidays are completely tailor-made and prices will vary based on things like time of year and level of accommodation, we want to give you as good an idea of how much this itinerary will cost. The below prices are based on two people sharing.
This Itinerary
If you would like to book the itinerary mentioned above, with economy flights, during mid-season and staying in our preferred room category at our preferred hotels.
Bells & Whistles
If you are looking for something extra special, we can discuss with you upgrading your accommodation, flights or activities.
Harriet and Charlotte H are our experts for this itinerary and as seasoned travellers they have the inside track on the most memorable adventures.