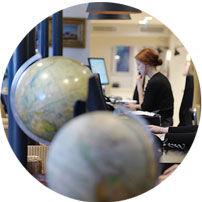 From the charming colonial architecture and colourful food markets of Guyana's capital, to the sugar plantations and white sand beaches beyond, Georgetown holidays offer the perfect blend of culture and relaxation. Filled with charming colonial architecture and colourful food markets, Guyana's capital city is the perfect cultural counterpart to an adventurous Guyana getaway. Spend your time here feasting on fabulous fusion food, exploring the winding back streets with a local, and venturing out along the country's coast.
Guyana Regions
Discover more 100% tailor-made holiday ideas
What our clients say about us
Guyana customer reviews (1 reviews)
4.5/5
An unforgettable experience, everything was managed from A to Z with excellent organisation, and the people in Guyana were adorable and attentive throughout. We stayed in charming hotels and saw some of the most memorable places we've ever been lucky enough to visit. We highly recommend Original Travel.
Contact one of our Guyana specialists