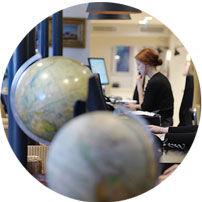 Thanks to the region's diverse range of ecosystems and wildlife-heavy wilderness, holidays in the Rupununi give you the chance to let your inner adventurer roam free. With its vast open plains and sun-baked savannahs, Guyana's Rupunini region is a contrasting but welcome balance to the twisting sea of green of the country's rainforest-heavy interior. Covering a significant portion of southern Guyana and stretching into northern Brazil, the Rupununi is one of the world's largest open ranges of savannah lands but don't let that fool you into thinking that this is just a flat desert-like destination;
there is far more to this remarkable region than just grasslands (although there is plenty of that too).
Guyana Regions
Discover more 100% tailor-made holiday ideas
What our clients say about us
Guyana customer reviews (1 reviews)
4.5/5
An unforgettable experience, everything was managed from A to Z with excellent organisation, and the people in Guyana were adorable and attentive throughout. We stayed in charming hotels and saw some of the most memorable places we've ever been lucky enough to visit. We highly recommend Original Travel.
Contact one of our Guyana specialists