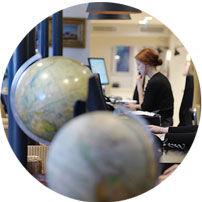 Guyana's hinterland - with its pristine and largely unexplored rainforests, rugged mountain ranges and remote Amerindian villages - should be on the bucket list for anyone with a love of nature and ecotourism. Far from the bustle of the country's capital, Georgetown, the country's interior is a wonderland of wildlife filled wilderness that's perfect for adventure-loving travellers who dream of spending their days trekking through the jungle, canoeing along remote rivers and crossing vast sun-baked savannahs on unforgettable 4x4 safari drives. So far, so amazing, but the highlight (in more ways than
one) of any central rainforests and mountains holidays in Guyana is a visit to Kaieteur Falls - the tallest single-drop waterafll in the world.
Guyana Regions
Discover more 100% tailor-made holiday ideas
What our clients say about us
Guyana customer reviews (1 reviews)
4.5/5
An unforgettable experience, everything was managed from A to Z with excellent organisation, and the people in Guyana were adorable and attentive throughout. We stayed in charming hotels and saw some of the most memorable places we've ever been lucky enough to visit. We highly recommend Original Travel.
Contact one of our Guyana specialists