Forget Disneyland. OK, OK, maybe don't rule out the House of Mouse entirely, but with such an array of exciting activities and places to visit on offer, the USA is an ideal destination for a luxury family holiday, Mickey Mouse & mates or otherwise.
Tweens and teens especially will absolutely love America - from wildlife spotting in the National Parks to surfing in Hawaii, shopping in New York and trekking in California there are options galore. If you have very young kids, some of the flight times may well appear daunting, and if the thought of spending ten hours in a confined space at 30,000 ft with your little monsters strikes fear in your hearts, this may not be the destination for you. However, with some creative games and entertainment on board to keep them busy, provided by the patron-saints of family fun, Sharky and George, travelling can be a stress-free (and dare we say it, fun) experience.
Once there you'll soon realise that, in fact, very few countries on earth cater for luxury family holidays as well as the USA does. Our travel experts have travelled the length and breadth of the country (lucky devils) in search of the very best places to go, things to do and places to stay during your luxury family holiday to the USA, here are their top picks…
Family Fun with Original Travel
Planning a successful family holiday takes a similar amount of organisation and fortitude as a small scale military operation. But fear not, our team of specialists (many of whom are parents themselves) are here to take the stress out of the planning process so those toddler tantrums and teenage meltdowns are kept to a minimum.
From our carefully curated Sharky & George fun packs, which keep children entertained on those long journeys, to knowing the most family-friendly hotels and holding client focus groups, we pride ourselves on making sure that you have the best family holiday imaginable because there's no more important time together.
Itineraries
Best for: Couples, Families and Road Trippers
Fly Drive New England
Explore the highlights of New England on this two week round-trip road trip, starting in the city of Boston before exploring everything the region...
14 Days
From £2,795pp
Best for: Families
Family Ranching in the American West
Is there a better way to spend time with your young would-be cowboys, Indians, David Attenboroughs, Ansell Adams or even Anish Kapoors? If there...
14 Days
From £3,365pp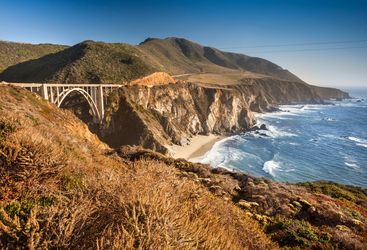 Best for: Families and Road Trippers
A Family Road Trip on the West Coast
An action-packed holiday for the whole family, combining city adventures in San Francisco and Los Angeles with the great outdoors, where the...
14 Days
From £4,145pp
Start creating your tailored trip today
Our thoughtful experts are ready with ideas, inspiration and advice for your next journey.
Working with you we'll craft an unforgettable trip and tailored itinerary.
We're here to help with everything while you're away from the smallest to the biggest request.
George and Ollie are our 'Family USA' experts and as seasoned travellers they have the inside track on the most memorable adventures.